Choosing the right keywords to target can make or break your search engine optimization (SEO) efforts.
If you choose keywords with very little volume or very high competition, your efforts may go down the drain.
It all starts with effective competitive research.
This marketing tactic works well for so many reasons:
You eliminate the guesswork of which keywords to try to rank for
It improves your online presence
Saves you time and money
In the interest of transparency, this post may contain affiliate links to the tools mentioned. At no additional cost to you, if you click through and decide to purchase, I will earn a commission. Regardless, I only recommend products I use and believe will add value to you.
Step 1: Find Keywords You Can Actually Rank For
The first step in stealing your competitor's traffic is to determine which keywords you can actually rank for.
You can find more about effective keyword targeting here.
The main idea is to establish some sort of benchmark of your website ranking power.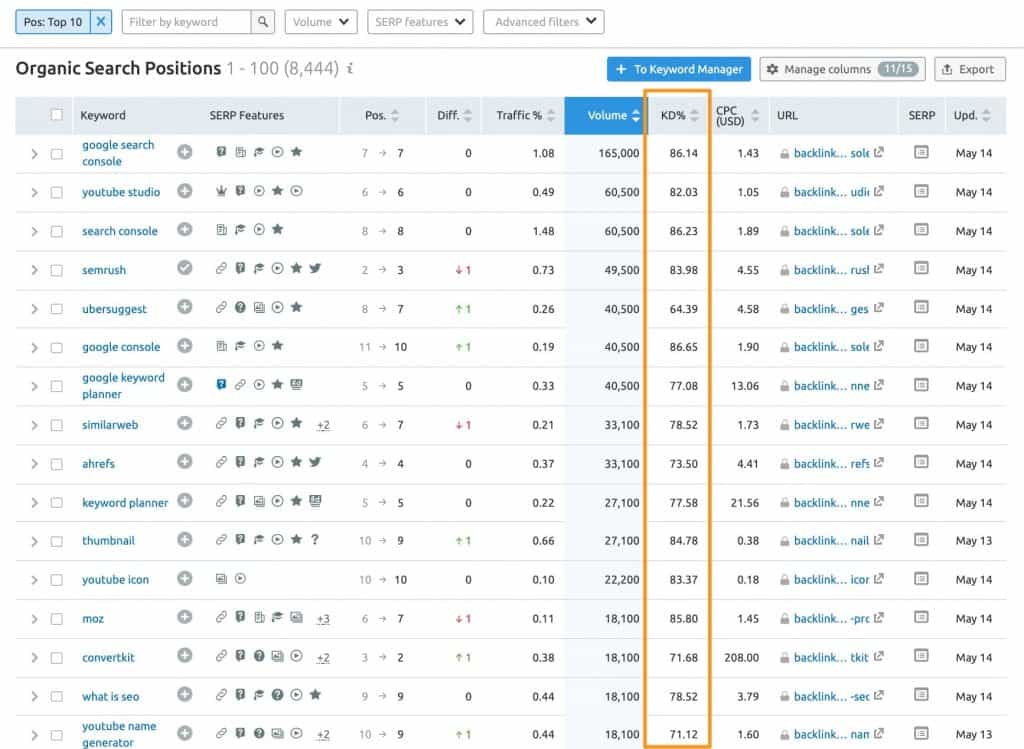 The premise behind this is simple: if you target a keyword that's too difficult or too competitive, it will take you a long time and a lot of effort before you start seeing results.
What we're going after are quick wins.
After all, this guide is about stealing competitor's traffic.
If after 6 months, all you got are a few dozen visits, that won't make a dent.
Make sure you find out which keywords you should be targeting first.
Once you finish this part of the keyword research process, proceed to the next step.
Step 2: Find Your Organic Search Competitors
In order to steal traffic from your competitors, you have to know who they are in the first place. You can do that by performing an SEO competitive analysis.

The end result of this is you can find out exactly who your competitors are in search engines.
This step is crucial.
If you simply guess and assume your competitors, you will most likely miss a lot of keywords and content ideas.
A competitive analysis looks at the list of keywords your competitors rank for and which ones you're also ranking for. The more similar keywords you have, the more you should consider them as competitors.
Step 3: Competitor Keyword Research: Find Keywords and Topics Your Competitors Are Targeting
Here's the fun part.
Take a look at the keywords your competitor's website is ranking for in the top 10-20 positions on search results.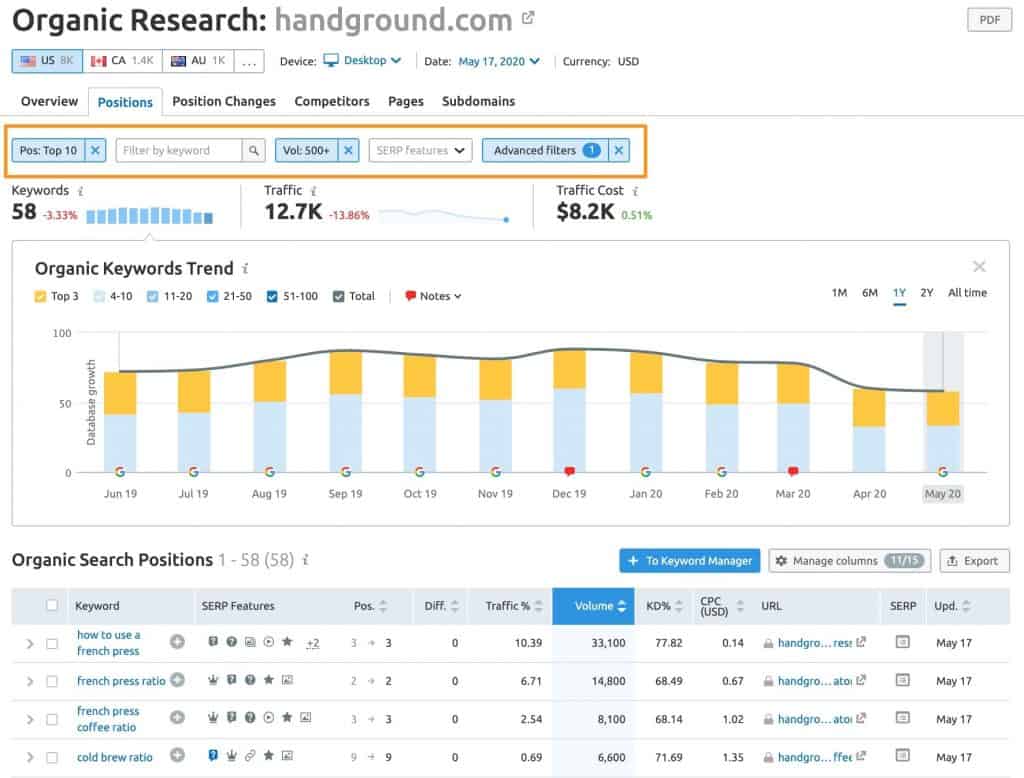 From here, apply some filters to find the long-tail keywords that are within your ranking power. Remember, this is the keyword difficulty range you got in step 1.
A shortcut is to find the least competitive keyword with a search volume of at least 500. Then, I'll sort by keyword difficulty (KD%).
Here's how that would look like.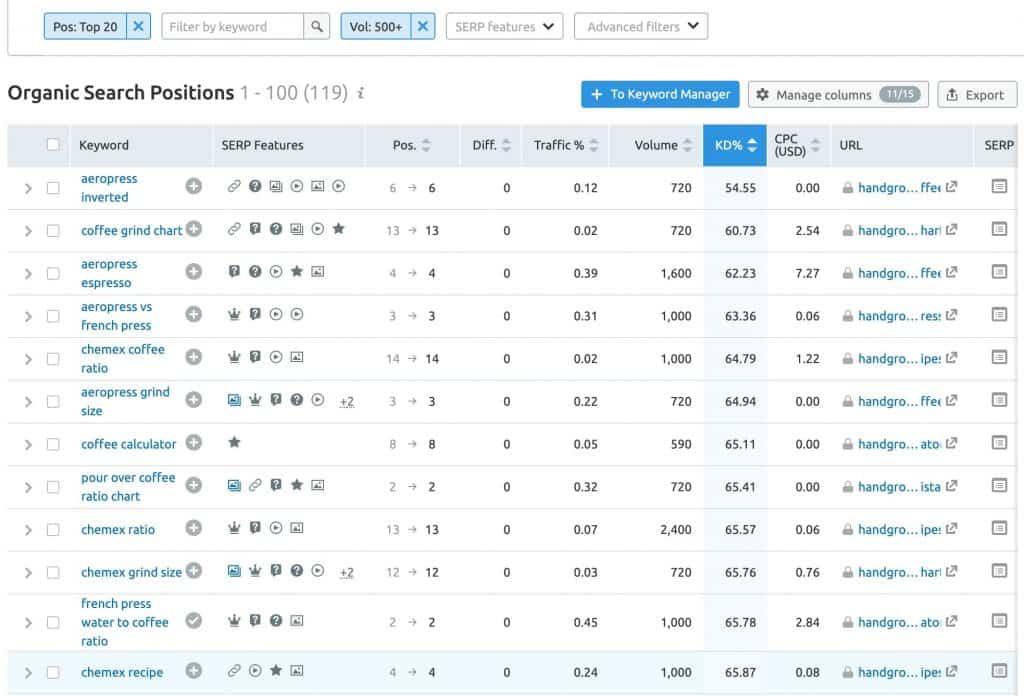 Assuming the search terms are relevant, I can think of two pieces of content:
A Home Brewer's Guide to Using the Aeropress. I'll make sure to cover specific keywords such as the aeropress inverted, aeropress grind size, and aeropress espresso.
A Home Brewer's Guide to Chemex. I'll also cover keywords chemex coffee ratio, chemex grind size, etc.
This is just from the screenshot above.
Of course, there will be more relevant keyword variants on this list.
To make it easier to keep track of ideas, it's best to group them together in keyword lists. You can do that by ticking the checkbox that goes together (A), then click on the To Keyword Manager button. You can add them to an existing list (B), or create a new one (C).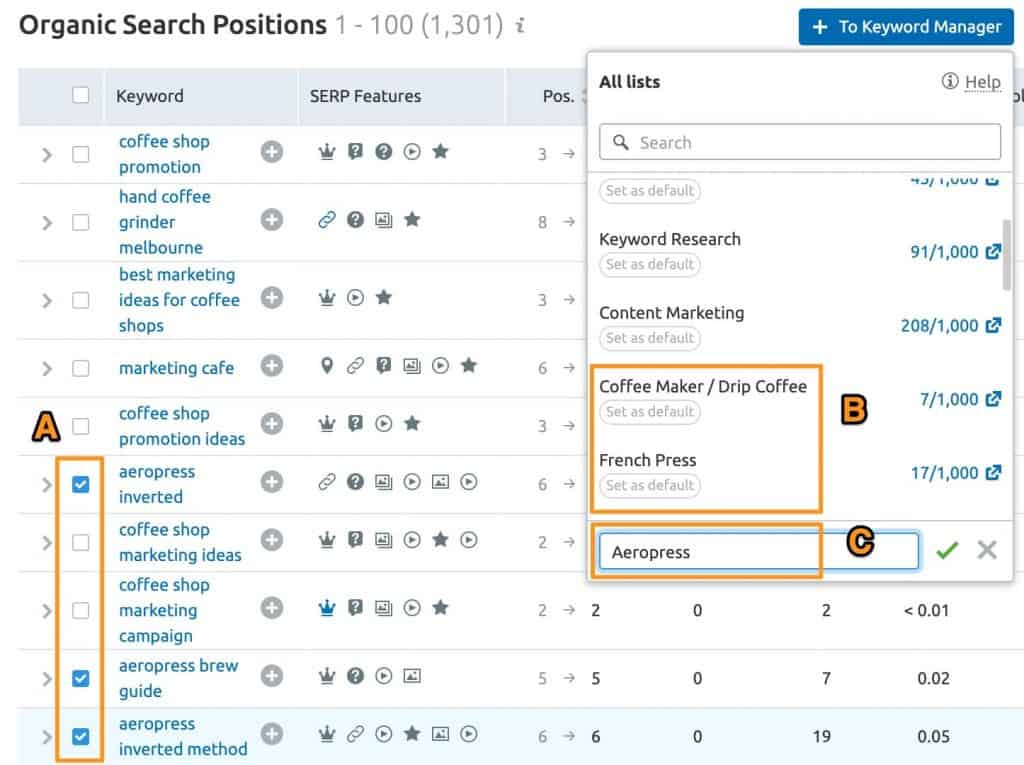 Adding relevant keywords together in a list keeps the research process more organized. It will also help you focus on which long-tail keywords to use in your content.
Step 4: Create Better, SEO-Optimized Content
Whether you used lists or noted them on your mind, the next step is to create a better and SEO-optimized content. This is the most important step if you want to increase your organic traffic.
Research is important.
But if you want results, you have to actually create the content.
Depending on your resources, you can outsource the content creation to writers or write the content yourself.
Regardless, the first step is create an SEO content template.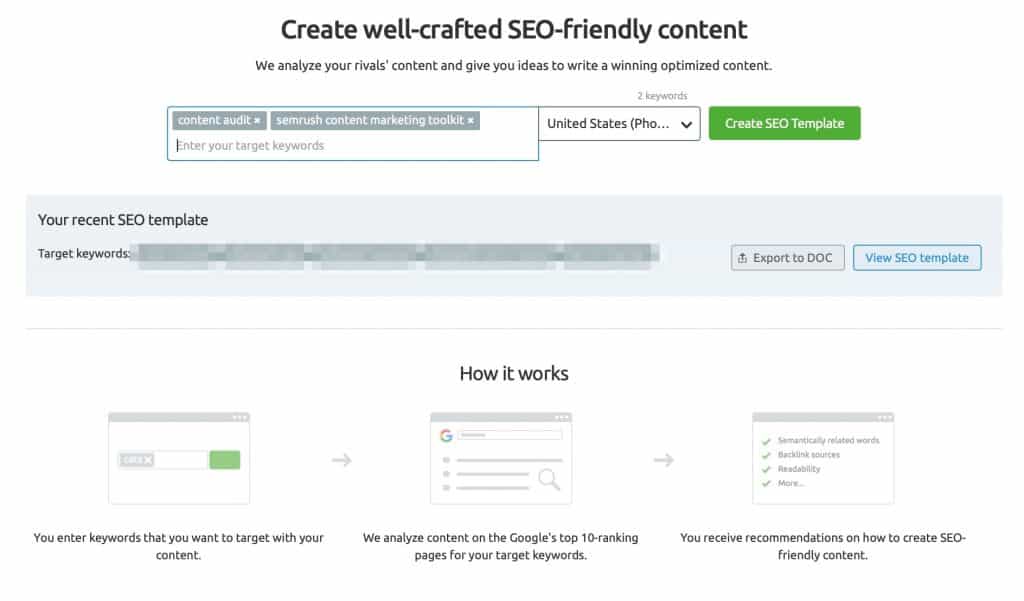 Add 1-2 keywords from your list.
I recommend choosing the most relevant keyword with the highest search volume.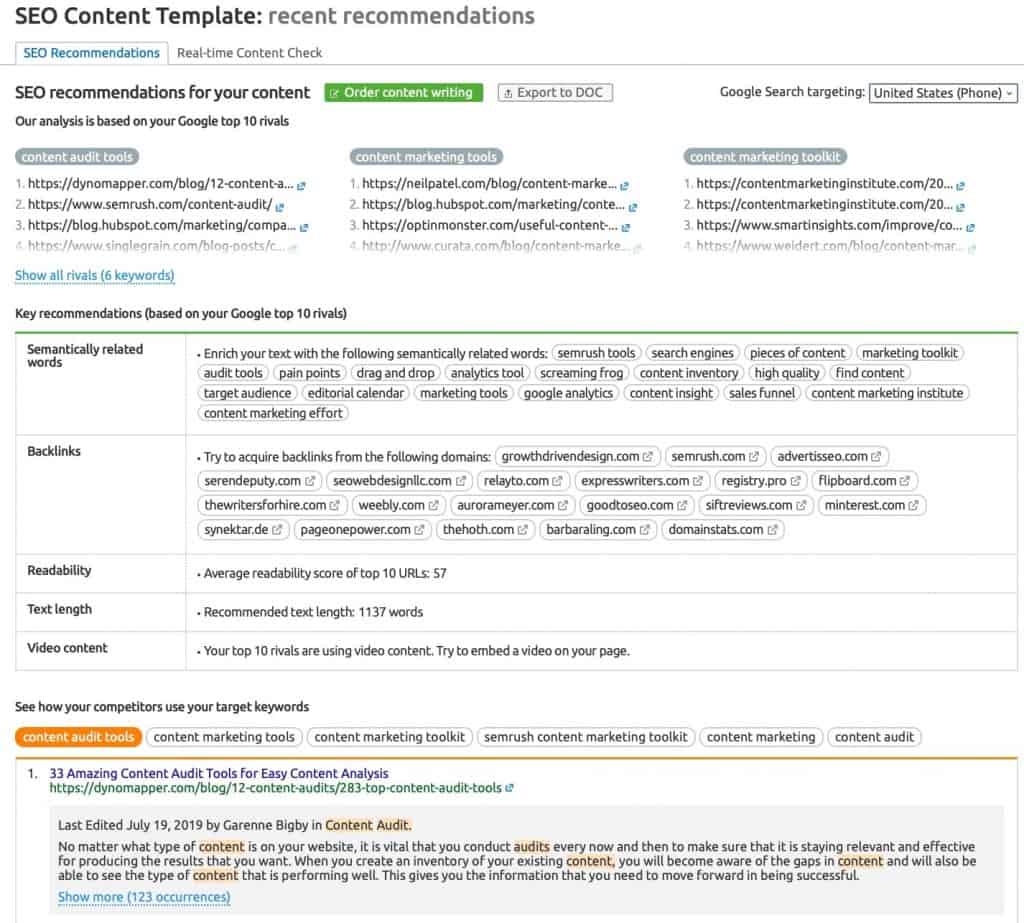 Once you have the template, you can hand it over to writers; or you can write the content yourself using the SEO Writing Assistant.
Use it as a guide to crafting an SEO-optimized article. Using an AI-powered content marketing tool helps you create high-quality content by:
Showing you semantically-related keywords to add
Telling you the target readability and length by analyzing the top 10 ranking rivals on Google
Lets you know which backlinks you should try acquiring
What other type of content do you need to perform better
I wrote more about this process for creating high-quality content here.
Once you finish creating the content, don't forget to follow these content distribution post-publish workflow.
Step 5: Repeat for Every Competitor Frequently
Repeat this process for every competitor site at least once every 6 months.
Instead of coming out with new ideas, all you to do is grab the low-hanging fruits your competitors are neglecting.
In a single 10-minute research process, you can get dozens of content ideas. And that's just for a single competitor website.
If you do this for all your competitors, you can fill out your content calendar for the next 6 months easily.
By doing this process frequently, you can make sure you are keeping tabs on your competitors and what they are doing. A 6-month cadence also allows you to create the content and drive organic traffic to it.
This 5-step plan is also the easiest and fastest way to scale your content creation.
Conclusion
Most marketers use keyword research to search for high volume, low competition keywords.
While that is a sound recommendation, it's often best not to reinvent the wheel.
Stealing your competitor's traffic should be part of your online marketing strategy. It helps you grow your organic traffic, improve your website rankings, and online presence.
Have you tried stealing your competitor's traffic?
Or is this the first time you've heard about this tactic?
I'd love to know.