The SEMRush Writing Assistant (SWA) is the companion of the SEO Writing Template. It helps you write an SEO-optimized article by performing real-time checks against the recommendations in the SEO Content Template. It's also one of the tools inside the SEMRush Content Marketing Toolkit.
At a high level, here's how it works:
You pick a keyword or two that you want to target and rank for
Create an SEO Content Template
Write the content with SEO Writing Assistant to guide you
In the interest of transparency, this post may contain affiliate links to the tools mentioned. At no additional cost to you, if you click through and decide to purchase, I will earn a commission. Regardless, I only recommend products I use and believe will add value to you.
After this simple 3-step process, you have an article that's optimized to rank on Google. I wrote about the importance of keyword research and how to use the SEO Content Template, so I'm not going to tackle them here.
Also, if you want to see this in action—from researching a topic to writing and publishing—I wrote about this 10-step process of creating high-quality content here.
What Is the SEO Writing Assistant?
The SEMRush SEO Writing Assistant (SWA) is a tool that checks your blog posts or pages if it follows the best practices in search engine optimization.
It shows you your scores across 4 different dimensions:
Readability
SEO
Tone of voice
Originality
If you click on any one of those dimensions, you can see the individual metrics that is part of it. Here are them below.
Readability
Readability is all about how easy or difficult it is to read your article. It uses the Flesch–Kincaid readability test. Based on your SEO Content Template, you will get a target score here which is based on the top 10 pages on Google for that keyword.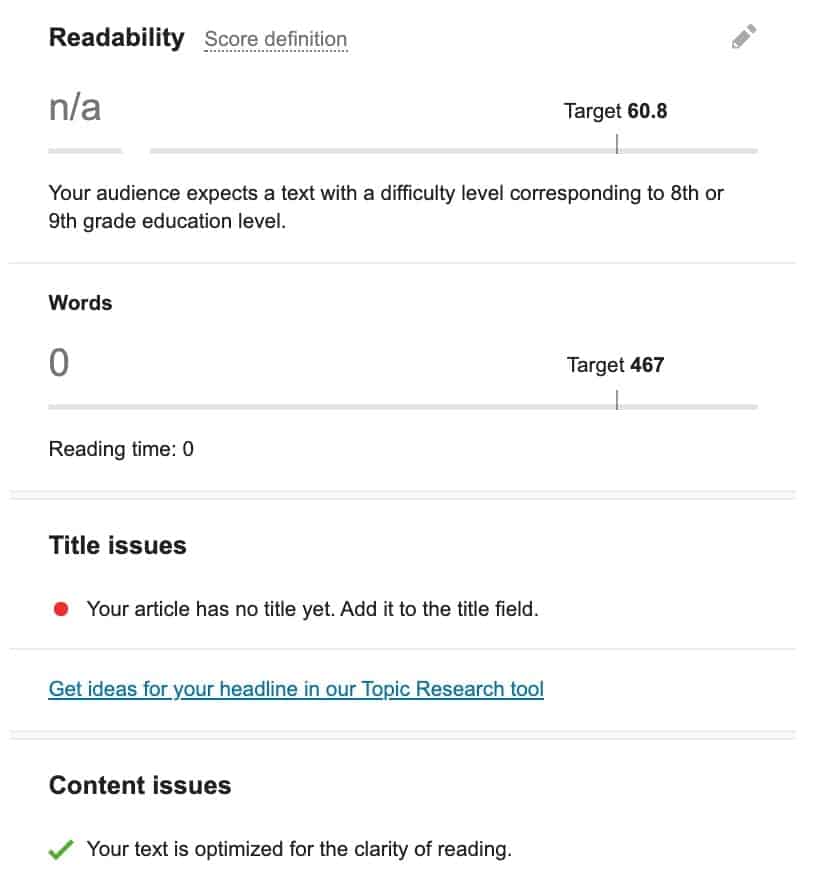 You'll also find your recommended word count here and an estimated reading time. Below that is a section for your title. This primarily looks at the length of your title since search engines cut off or truncate your title if you exceed a certain character/pixel length.
The last part is about issues with your content. Some recommendations here would be to split long paragraphs, avoid hard-to-read sentences or too complex words.
SEO
As the name suggests, this metric helps you follow on-page SEO best practices for the particular keyword you are targeting. It helps you add semantically-related keywords which are essential to helping Google understand more about your page.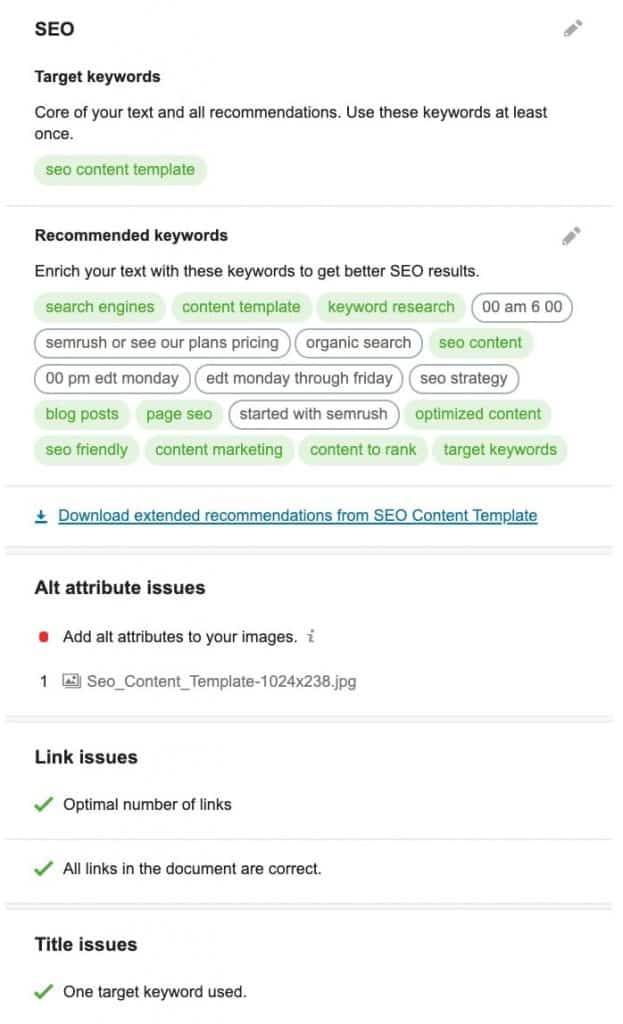 What's great here is that as you write your content and use the recommended keywords, the keywords light up as green. If you use it too much, you'll see it show you a warning to help you avoid keyword stuffing: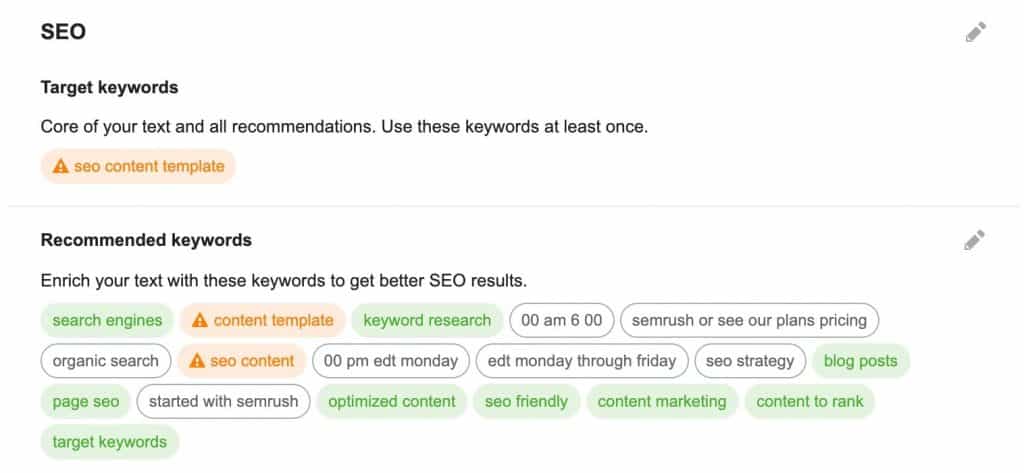 You'll also find recommendations on alt attributes. These are the ones you add to your images. Below that are your link issues which looks into internal and external links. It also performs an automatic link check to ensure none of the links you add are broken. Pretty neat, huh?
Finally, you'll see another title recommendation here. In the readability, it checks for your length. Here, it checks if you used your main keyword in your title.
Tone of Voice
A brand's tone of voice is extremely important when it comes to creating content. One of the keys to maintaining your tone of voice is consistency.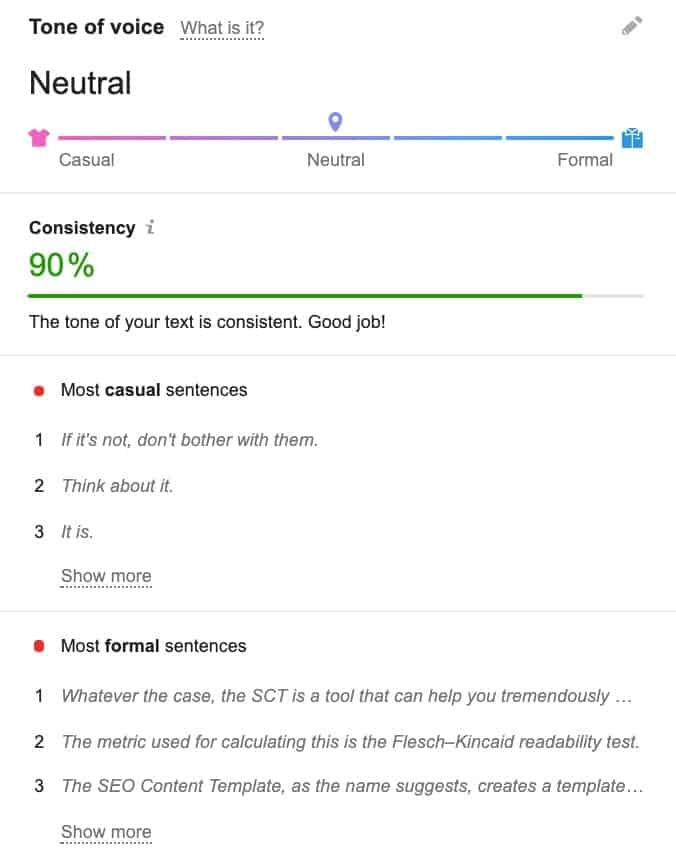 You'll be able to visualize whether you're writing is leaning towards casual or formal.
It'll also identify sentences on both ranges so you can make changes. Click on those sentences and it gets automatically copied to your clipboard. You can easily search for the sentence in your browser and make the changes.
Originality
This last metric here won't have any scores unless you use it. The originality checks your content against potential plagiarism issues.

Depending on your accounts, you only get a limited number of these checks per month.
These four dimensions—readability, SEO, tone of voice, and originality— all help you write an SEO-optimized post and maintain brand consistency every single time.
How to Access the SEO Writing Assistant?
You can use the SEM Writing Assistant in 3 ways:
1. Use SWA in SEMRush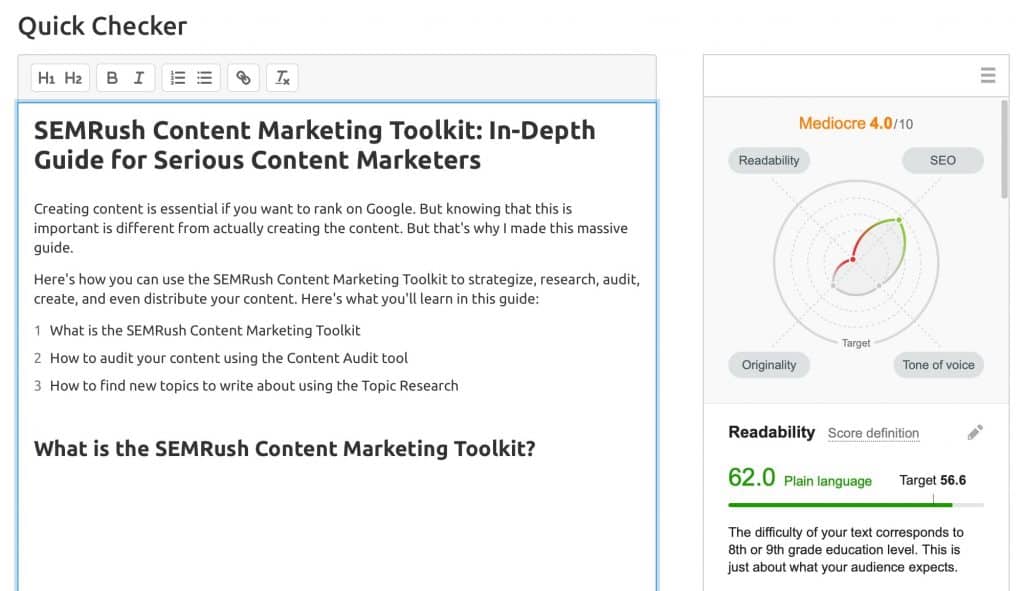 You can use the SWA within SEMRush directly. My experience, however, is not that great. It has limited functionality but handy if you need to quickly make one.
2. Use SWA in WordPress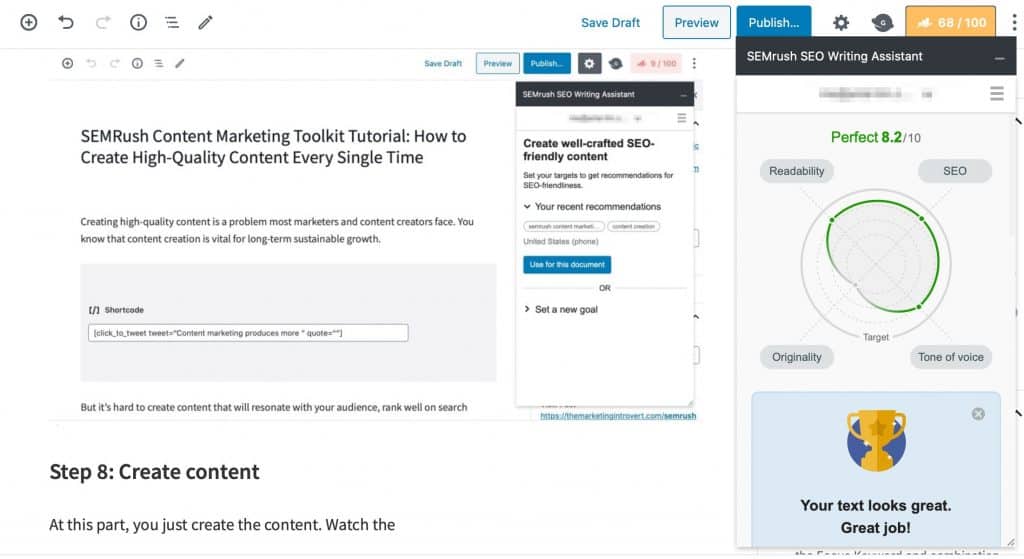 The SEO Writing Assistant is a plugin you can install and use inside WordPress.
The default view for SWA is it's at the bottom of your editor, so what I do is click on the float mode so it can appear as a sidebar.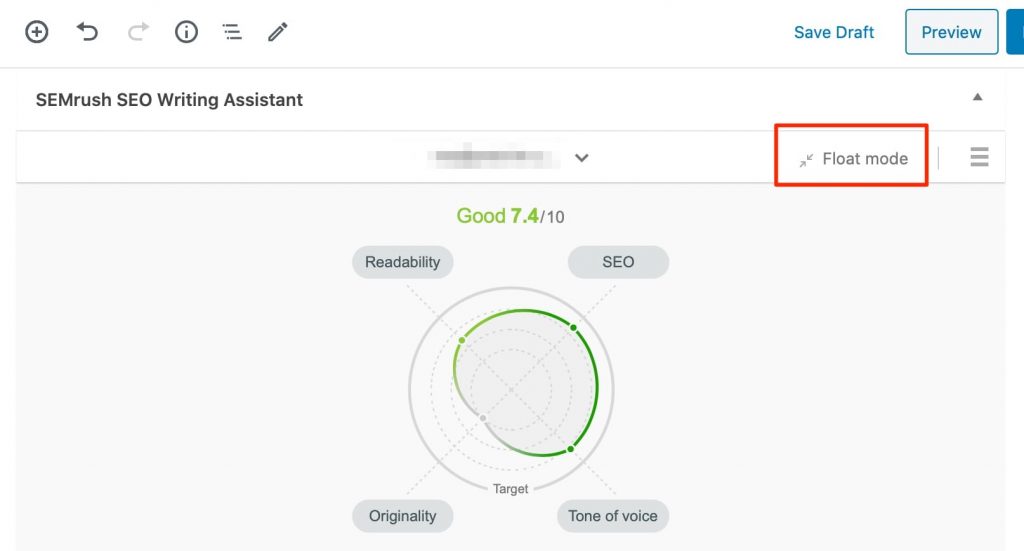 Once you do that, it will show up as a floating side bar.
If you notice, it looks similar to the one inside SEMRush. You'll see your score on four key metrics: readability, SEO, tone of voice, and originality.
This is my preferred method of using the SEO Writing Assistant.
3. Use SWA in Google Docs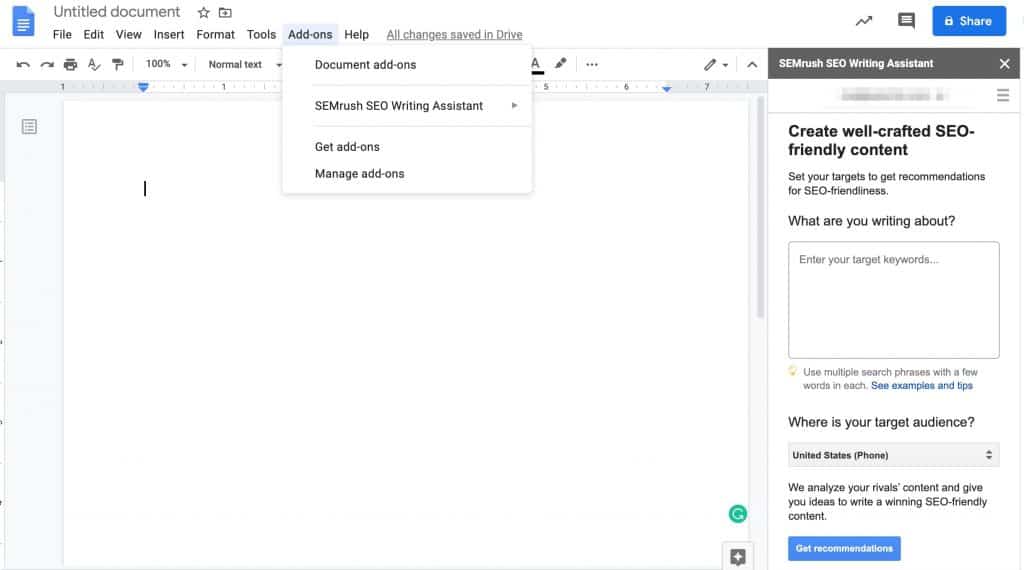 Finally, if you are a fan of Google Docs, you can install the add-on, sign-in your SEMRush account, and the SWA can show you recommendations here.
This is perfect for this writing for other clients and/or working with other writers.
You can easily do this by clicking on Add-ons, then Get Add-ons. You'll see the Google Marketplace. Or, click here to install it directly.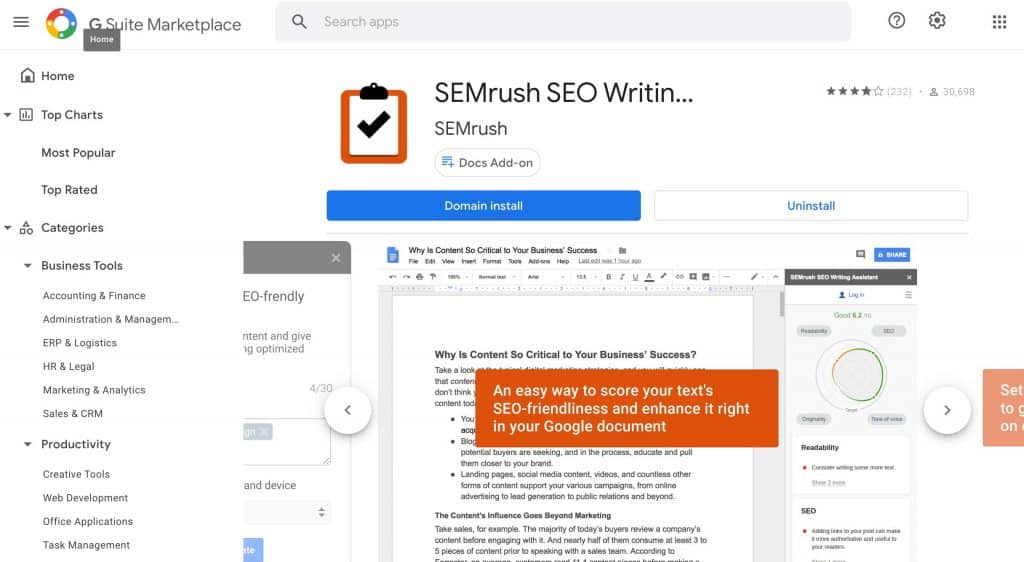 How to Use the SEO Writing Assistant: Sample Use Cases
Just like the SEO Content Template, there are two main uses for the SEO Writing Assistant.
Use it on your site as you create awesome content
Invite others to collaborate with you and scale your content marketing
I already covered how you can use SWA to write high-quality content. But because of its Google Docs integration, it gives you a lot of possibilities.
How?
You can use it to handle multiple authors and writers so you can scale your content marketing.
You create the Google Doc template for them to use, then share that link. From their end, they just install the SEMRush SEO Writing Assistant add-on to their Google. This is a lot easier than sending them a Word file of the SEO Content Template.
The beauty of this is they don't need an SEMRush account to access your SEO Content Template and use the SEO Writing Assistant in their writing.
Limitations of the SEO Writing Assistant
The main limitation of the SEO Writing Assistant is tied to the SEO Ideas Units I discussed in the basics. Depending on your plan limits, you only get a certain number of these per month.
That's why I recommend getting the guru plan if you're planning to use content marketing in your business. This way, you'll have 800 units to use. And from my experience, it is more than enough.
One quirk that you have to know, which I learned the hard way is if you are planning to write an article yourself, I suggest using SWA on your chosen platform—in most cases, that's either inside WordPress or Google Docs.
The reason is simple: sometimes, you can't connect the SEO Writing Assistant with the SEO Content Template. This happened to me just as I was writing this post.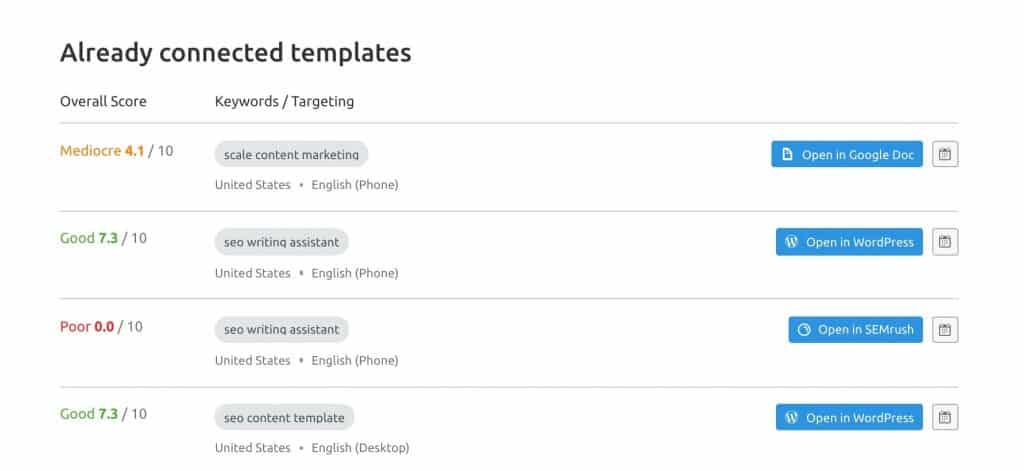 If you look at the image below, you will see two templates for the keyword "SEO writing assistant." One opens in WordPress and another in SEMRush. Those use up two SEO Ideas Units.
That said, you don't have to worry about this if you are using the guru plan as it gives you enough units at a monthly basis. But if you subscribed to the pro plan, you only get 1 template in total.
Conclusion
The SEMRush SEO Writing Assistant is the perfect companion tool if you want to write a blog post that will get you a ton of traffic. Follow the recommendations in the SWA as you write, and you're one step closer to an article that has a high likelihood of ranking on page one of Google.
You can also use SWA to scale your content marketing. Create a Google Doc, configure the SEO Writing Assistant, then share it with other writers.
Using this tool has certainly helped me speed up my writing process. I no longer have to manually check whether I covered all my on-page SEO settings. It does everything for me automatically and gets flagged for issues.
Are you interested in using the SEMRush SEO Writing Assistant to help you with your content marketing? You can take a look at their different plans and pricing.
If you want to take advantage of the content marketing toolkit, I strongly suggest getting the guru plan. You can signup here for a 7-day free trial.
Have any questions? Let me know and I'd be happy to answer them.