SEMRush offers three general pricing structure catered to different audiences and needs. These are the pro, guru, and business plan respectively.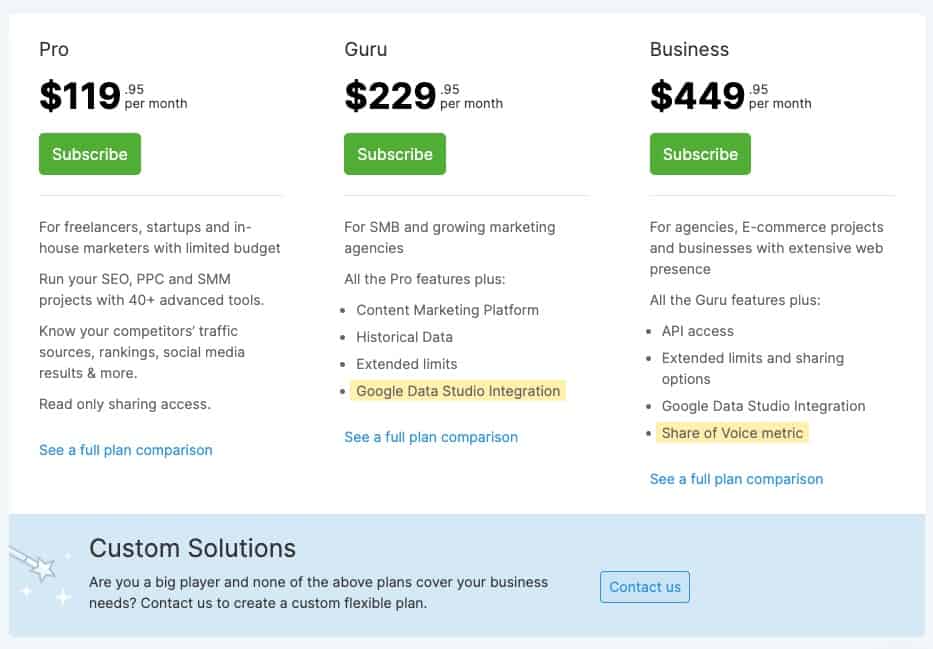 They also have an enterprise plan where you can customize whatever your requirements are. But for most businesses, you'll fall under these three plans.
If you're wondering which plan is right for you, you've come to the right place. Here, I'll be breaking down everything you need to know to make an informed decision on which SEMRush subscription to get.
This is important to get right if you want to take full advantage of their free trial; otherwise, you might feel cheated because you didn't get to explore the features you need.
A quick note on pricing—last January, SEMRush increased their prices from $99, $199, and $399 respectively. It has been four years since they last changed their prices. Frankly, it's still very much worth it because of the reasons I'm going to share below.
In the interest of transparency, this post may contain affiliate links to the tools mentioned. At no additional cost to you, if you click through and decide to purchase, I will earn a commission. Regardless, I only recommend products I use and believe will add value to you.
Quick Overview of the Different SEMRush Subscriptions
If you look at SEMRush's pricing page, you'll see that they identified the target audience for each plan.
Pro plan is for freelancers, startups and in-house marketers with limited budget
Guru plan is for SMB and growing marketing agencies
Business plan is for agencies, e-commerce projects and businesses with extensive web presence
However, everyone has different needs. That's why it's important that you choose the right plan suited for your needs. The main difference among the plans is access to certain functionalities and limitations.
Regardless of the plan you choose, you can find your limits under your profile icon (top right) then click on subscription info. Here's how mine looks like at the end of the month.
I'm on the guru plan and as you can see, it is more than enough for my needs.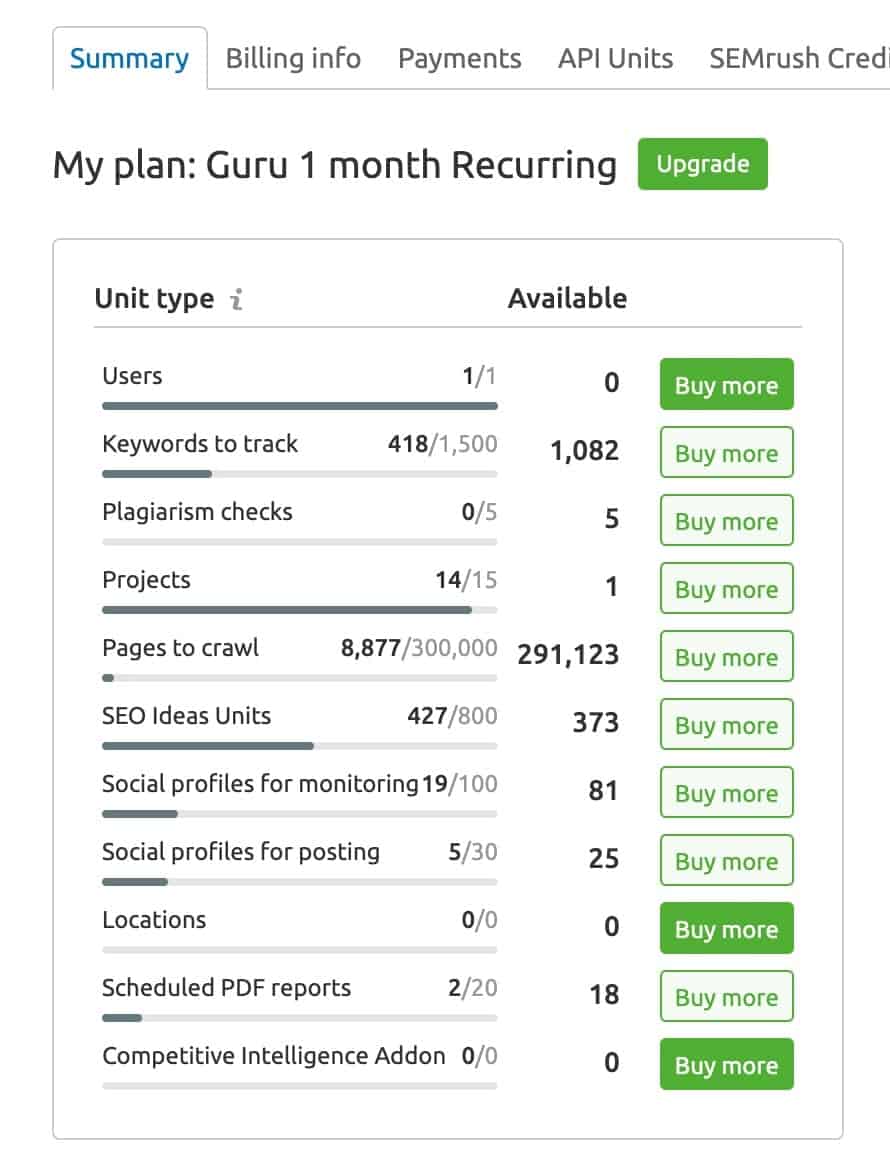 But this may be different for yours. Here are some of the questions or criteria you should think of when choosing the plan to suit your needs.
Key Questions to Ask When Choosing an SEMRush Subscription Plan
Instead of describing what the limits are for each individual too, which would be rehashing this page, I'll focus on several use cases that might apply to you.
1. SEO Tool or Marketing Tool?
The first question you have to answer is are you planning on using SEMRush as an SEO tool or a marketing tool? Answering this question will immediately disqualify certain plans.
If you're looking at getting an SEO tool, then the Pro plan should suffice for you.
What do I mean by an SEO tool?
When people think of SEO software, there's typically three things people want to do:
Keyword research—involves finding search volume and difficulty scores and other opportunities
Backlink research—Analyzing link profiles for entire domains or individual pages
Competitive research—looks at another website's online metrics from traffic to keywords to backlinks
If these activities are what you have in mind, then the Pro plan would be enough as a starting point. There's no need to get higher-tier plans if you aren't going to use the other features.
For example, keyword research gives you a generous 3,000 searches (or reports) per day in the pro plan. I doubt you'll exceed that in one single day.
On the other hand, if you value content marketing, you should start with the Guru plan. The main reason is the limitation of the Pro plan with the Content Marketing Toolkit, which gives you access to a whole set of tools that I discussed more below.
2. Own Websites or for Clients?
The next consideration you need to think about is are you planning to use SEMRush for your own website or are you looking to use it for your clients too?
The reason is that SEMRush allows you to group all your online marketing efforts into one space. They call it Projects. The Pro plan allows you to create 5 projects at a time, while the limit is 15 on Guru plan.
If you're an agency or handling multiple clients at a time, the guru and the business plan would be a perfect choice. If you're only working on your own websites, then the pro plan would suffice.
Technically speaking, you don't need to create projects inside SEMRush. But if you want an easy way to manage everything you're doing in one place, it's absolutely needed.
Another benefit of using projects is the ability to share projects with your team or clients. I go over this more below.
Also, without projects, you won't be able to access some tools like the Site Audit tool. The user interface requires that you add it to a project.
Lastly, and perhaps the biggest benefit of creating projects is the historical data and automation you can do.

This is great if you want to show progress reports.
In the image above, each dot represents an audit (using the site audit tool). It shows you the errors, warnings, and notices you need to fix. In the example above, I chose a weekly reporting period. This way, I can see if there are big issues that need to be addressed quickly. You can customize this schedule to daily or monthly. You can even set it to run manually or as needed.
Take note that the projects do not mean you can only explore 3 domains or websites. It only means you can track historical data (like the audit example I shared above) and access to other tools.
3. How Big Is Your Website?
Do a quick site search for your website.
Open Google.com in another tab
Type in "site:domain.com" without the quotes and replace your domain there. Make sure there aren't any spaces
How many pages are listed in the results?
Use this as a quick gauge to determine the size of the website you're planning to add to your SEMRush account.
Typically, you wouldn't encounter this issue unless you're a big business or running an eCommerce store. You'll have to consider this primarily because of the crawl limits in SEMRush's site audit tool.
Site audit allows you to see all the technical and on-page errors you have on your domain. It's a particularly useful tool if you care about your user's experience on your site. A lot of errors here can cause your website rankings to drop or limit your ability to rank in the first place.
For example, if you're running two eCommerce websites with dozens of products, you might find the pro plan enough. But if it's thousands of products—which in turn would be equivalent to thousands of pages—the guru plan would be a good starting choice.
As mentioned earlier, I'm using guru. I have 14 projects (different websites) in it and I'm only taking about 4,000 pages to crawl each month. I could have just used the pro, but because I strongly believe the SEO without content is not effective. And the guru plan allows me to make full use of the content marketing toolkit.
4. How Many People Will Use SEMRush?
If you have a larger marketing team, you might need to have more than one user per SEMrush account. By default, every plan includes one user, but you can add more depending on your needs.
Monthly pricing per added user depends on the level of your subscription. So this is something you definitely should also think about when deciding on an SEMRush plan.
Note that sharing credentials is not recommended and against the terms of use.
One other thing I want to highlight is the sharing capability you won't know about unless you use SEMRush extensively.
As you can see from the image above, any paid plan can share edit access to projects. The limitation is the other account also has to be a paid one.
But free accounts can be granted read-only access. This means if you are working with clients, you can ask them to sign up for a free account then share that project with them.
5. Do You Need Reports With Your Own Branding?
SEMRush has a lot of reports you can use. Every account has the ability to create as many PDF reports as they wish. However, depending on your account, you can only schedule a given number of reports.
See this image below:
Remember earlier, I showed the site audit report with the history? If you're offering on-site optimization services to your client, you can automatically send them a PDF report every Wednesday (or any day you choose). That way, you don't have to continuously have to summarize everything you did.
Note that this isn't limited to site audits. It can also be about the overall SEO performance including traffic and keyword position changes, backlink audit reports, PPC ads from your own domain and your competitor, and a whole lot more.
One question often asked is the ability to generate reports and add your company's logo or branding. SEMRush offers these as well in their Agency Growth Kit, which is priced at an extra $100/mo.
But remember: white label reports are different from branded reports.
Branded reports allow you to add your branding (logo) to the reports, but will still mention SEMRush. White label reports are what you are looking for if you want to completely remove any mention of SEMRush. Here's how that may look like:
6. Will You Perform On-Page Optimizations and Improvements?
One of the tools I frequently use is the On-Page SEO Checker. What it does is it pairs keywords with landing pages of your site to generate recommendations to improve the SEO of the pages.
It gives you a way to prioritize and optimize pages on your website based on several factors like which has the biggest potential for improvement and which ones are getting a lot of traffic. It will be broken into 7 different areas like in the example below.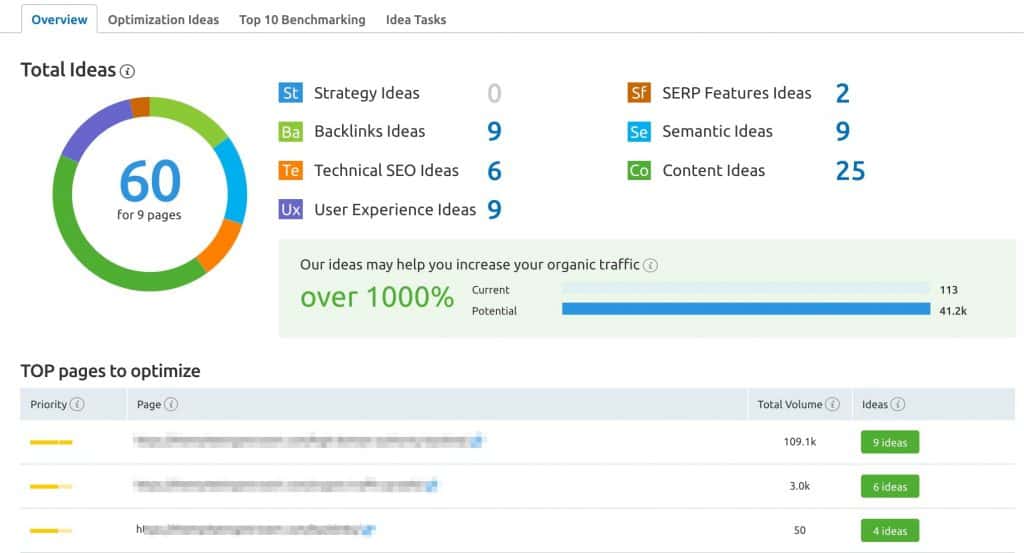 For example, you want to "associate" the three keywords to blog post 1 and 5 keywords to blog post 2. That will take up 5 SEO Ideas Units. If you have 100 pages on your site (including your homepage, about us, and several blog posts), and you want to associate a keyword for each, that will use up 100 units.
That keyword association will be used to generate ideas for improvement such as adding schema markups, semantic keyword suggestions, and many more.
This limitation is important to note because the SEO Ideas Units is shared among three tools:
On Page SEO Checker
The limits for each account level is:
Pro: 500
Guru: 800
Business: 2,000
The general rule to keep in mind is that one keyword entered into any of these tools = one SEO Ideas unit.
7. Are You Investing in Content Marketing?
The final consideration you should consider before picking an SEMRush subscription is are you looking to grow your business using content marketing?
If the answer is yes, this puts the pro plan out of the running, leaving you with either the guru plan or business plan.
The main reason is that the pro plan has very limited access to the content marketing toolkit. (Note this is tied to the SEO Ideas Units mentioned in the previous section)
For example, you want to use the SEO Content Template to help you write an SEO-friendly article. The pro plan only allows you to create 1 template with 10 keywords. That's it. It does not get replenished every month. With the guru and business plan, you can create as many as you can and is only limited to the SEO Ideas Units.
It's the same thing for other features/tools in the image above. Topic Research tool which allows you to brainstorm topics to create content about. The pro plan only allows you to use it for 2 queries in total.
Conclusion
These are some of the top considerations you should think about when choosing an SEMRush subscription. If you are looking for a simple tool to handle your keyword research and checking backlinks, the pro plan would be your best choice.
But if you want to get the most out of SEMRush, you should consider their guru or business plan because it gives you access to the powerful content marketing toolkit.
If you have further questions, you can reach out to SEMRush directly, or let me know in the comments and I'll be glad to clarify every question you have to the best of my ability.
SEMRush is the ultimate marketing toolkit. It has everything you need to manage your digital marketing activities—from SEO tools like competitive research, backlink analysis, to content marketing and social media management.
Get the Guru Plan 7-Day Free Trial
After you sign up for a free trial, email me at talktome@themarketingintrovert(dot)com if you want to receive daily emails on how you can maximize your SEMRush trial.
I cover the following topics:
• Perform a site audit to fix your on-page SEO and other technical errors that are holding you back from improving organic traffic and rankings
• Research keywords to write about
• Uncover hidden opportunities your competitors are neglecting and steal this traffic from them
• Plan and create SEO-optimized content
• Analyze your link profile and disavow toxic links
• Perform link building outreaches
• And many more