Targeting the right keywords is one of the first steps in the competitive research process.
If you try to rank for the wrong keywords for your website, you might get frustrated for the lack of results.
In this guide, you'll learn:
A quick overview of the keyword research process
Why it's important to target the right keywords
How to find the perfect keywords to target
In the interest of transparency, this post may contain affiliate links to the tools mentioned. At no additional cost to you, if you click through and decide to purchase, I will earn a commission. Regardless, I only recommend products I use and believe will add value to you.
Quick Overview of the Keyword Research Process
When you're doing keyword research for SEO purposes, you're looking for which keywords you want to create content so that you can get traffic and rank for them.
There are two primary metrics to look at in choosing the right keyword:
Keyword volume—Estimated in monthly search volume
Keyword difficulty—expressed as a percentage to determine how easy or hard it is to rank for that keyword
Different SEO tools will show you different numbers. So, don't be surprised if you see variances among the tools like SEMRush, Ahrefs, Moz, or Ubersuggest.
They also have their own interpretations of how they calculate difficulty scores.
For example, Ahrefs uses a weighted average of the number of referring domains to the top-ranking pages, whereas SEMRush takes into consideration the authority of the domains that are showing up on the results page and then estimates how hard it would be for a new website to outrank its current competitors on the SERP.
Why It's Important to Target the Right Keywords
Targeting the wrong keywords means you won't be getting the results you're expecting. There are two ways keyword targeting can go wrong:
Trying to rank for keywords no one is searching
Targeting keywords that are too difficult
The first one is often a problem faced by a lot of beginners. Because they bought into the paradigm of "if you build it they will come," they often get frustrated when they don't get results.
You can spend a lot of resources creating content, but if people aren't searching for them, then you won't get any traffic to your website.
On the other hand, targeting keywords that are too difficult to rank for can take a really long time to get the results.
That's why finding the right balance between search volume and difficulty is one of the things you need to learn.
Here's how you do it.
Note that this is just one way to target keywords. There are various strategies that you can apply to keyword targeting.
How to Find the Perfect Keywords to Target
Effective keyword targeting is really simple.
Find out which keywords you are already ranking for in the top 10
Use the average difficulty scores of those keywords
Add 10-20% higher/lower to get a range
Rinse and repeat after creating content
The first thing you need to do is head on over to your favorite SEO tool to find out which keywords you are already ranking for.
In SEMRush, you can do this by heading over to the Competitive Research > Organic Research section then type your domain there.

After you enter your domain, you will see a report that looks like the image below. It will have data and charts on the following:
How many keywords or search queries your domain is ranking for
How much traffic you're getting
At what positions are these keywords spread out in terms of rankings on search engines
and many more (like filtering by countries, etc. )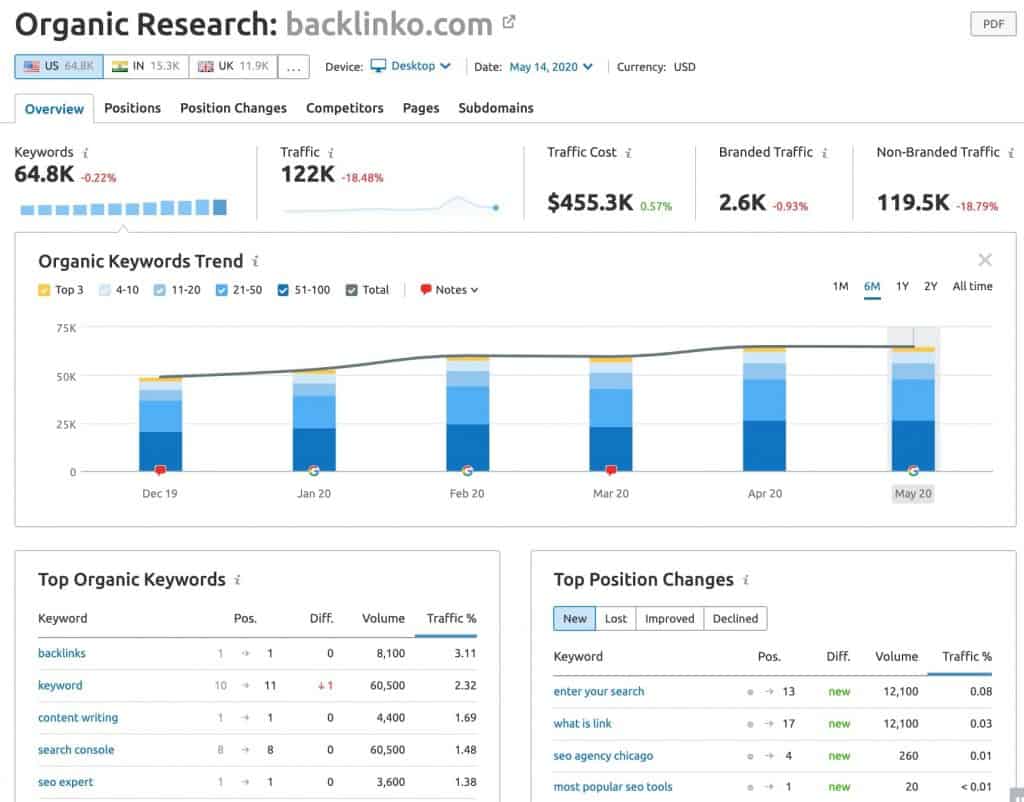 This might be overwhelming if you look at everything at once.
But remember, our goal right now is to find which keywords to target.
Disregard everything else for now, and follow these steps:
Make sure you're choosing the right country to get relevant results
Click on the Positions tab
Filter the top 10 ranking keywords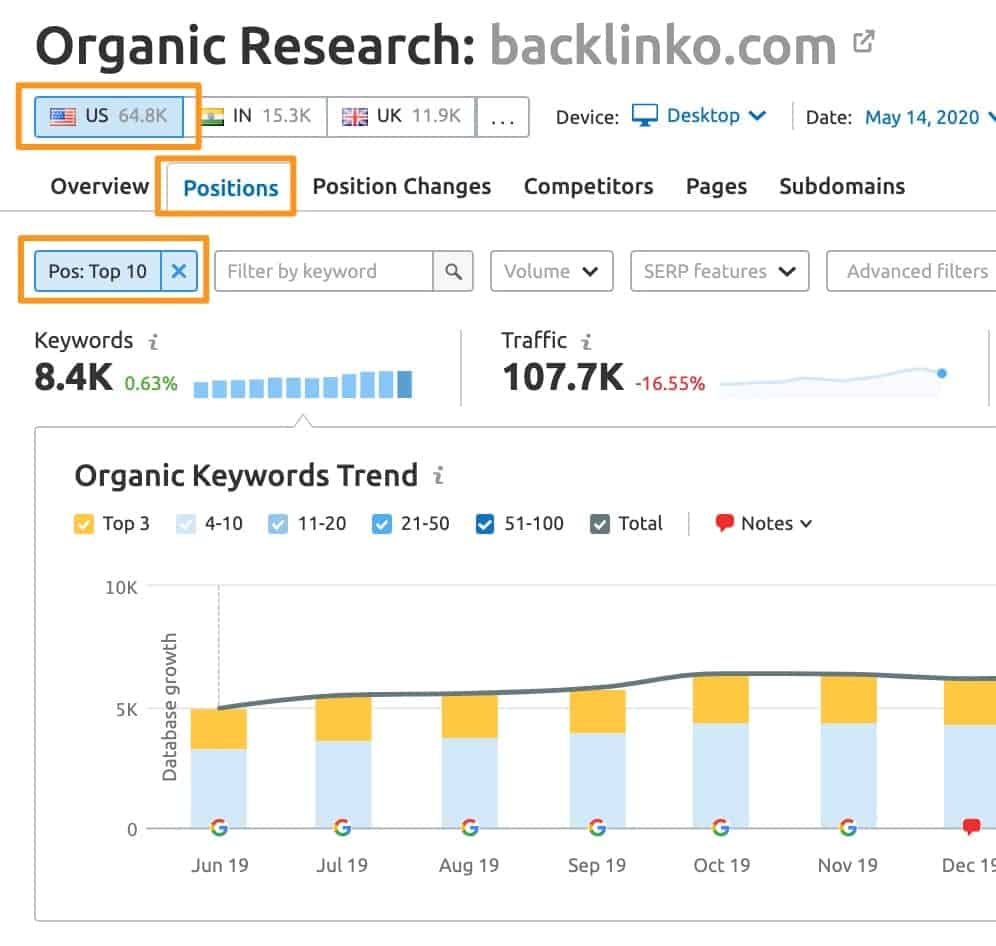 This will show you the keyword phrases your website is ranking for in the top 10 results.
After applying the proper filters, scroll down to find the keywords you are already ranking for and look at the KD% column (keyword difficulty column).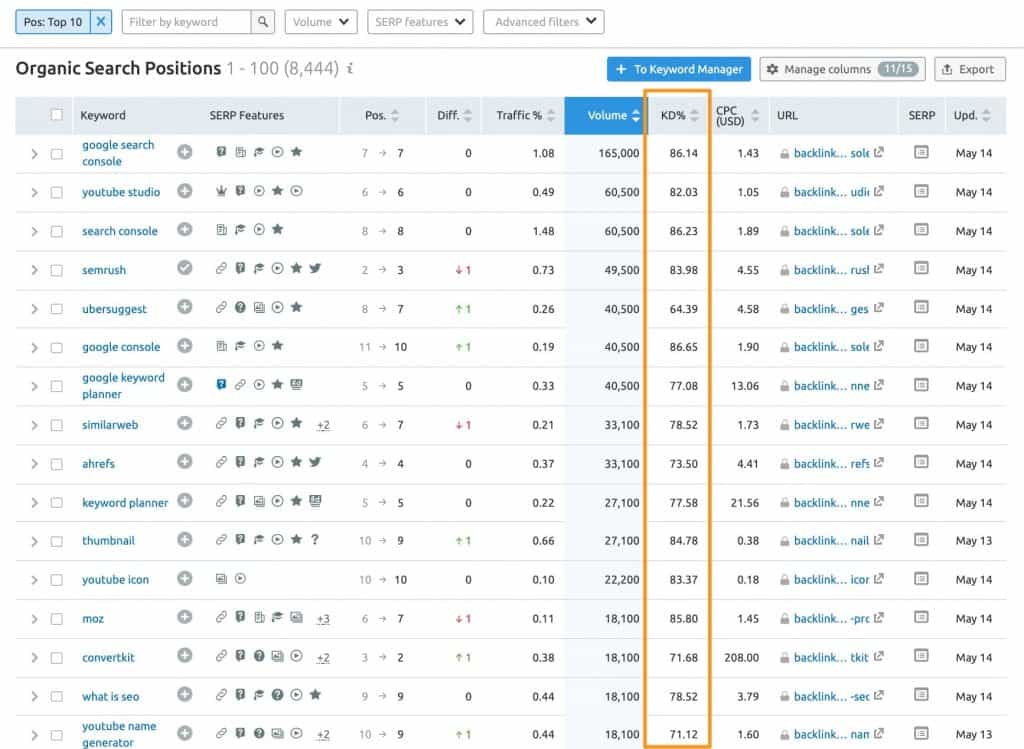 Based on the image above, you can estimate that the average keyword difficulty is somewhere along 80%. You can take a more analytical approach and take the exact average by exporting the values into a spreadsheet and calculate the average that way.
Either way, once you get the number all you need to do is find a range you can target. For example, using 80% value, an additional 10% would give you a score of 88% for the upper limit.
For the lower limit, you can technically target everything that is easier than that range, but that would make it hard to choose which ones to target because of the volume.
By applying a lower limit, you can get a reasonable amount of keywords to target.
This will give you a 72% to 88% keyword difficulty range.
How to Use the Keyword Difficulty Range
Now that you know which keyword difficulty range, you can use this to determine which keywords to target for your website.
The reason for this approach is simple: you find which keywords you're already ranking for, then use that data to find what other keywords you can target in that difficulty range.
For example, if you want to "steal" your competitors' traffic, you can follow the same process above but instead of your own domain, you enter your competitor's domain.
Once you have a list of keywords, filter it by top 10, then apply the upper limit first.

Filtering by top 10 shows you that it's a keyword that is relevant to your competitor and, most probably, your website as well. Depending on what you get, you can increase this to the top 20 if the results are too small.
In the TripAdvisor example, even after filtering, we're still getting over 2.2 million keywords.
I will definitely add more filters here to make the research process manageable. This is where the lower limits can come in. I'll also add a minimum volume (e.g. 1000) to make sure there is enough traffic there.
Technically, you can leave out the lower limit. But that may end up giving you too many keywords to choose just like the example above. Start small then expand from there.
Conclusion
Targeting a keyword that's too difficult can take a long time and a lot of effort to get results.
That's why choosing keywords to we know we're going to rank for is an essential first step. Once you determined your domain's ranking power, you can find who your real SEO competitors are, then try to steal their traffic.
Or if you want to further increase your knowledge on keyword research, you can enroll in this free online course.
What do you think? Are you using the same tactic for choosing keywords to target?
Or are you using a particular tactic? Or simple relying on your gut?
Either way, I'd love to know.