Backlinks are important. You know that.
We all know that. But it's also important to know why it's important.
Here's what Google has to say about links from other websites.
Make sure that other sites link to yours. Links help our crawlers find your site and can give your site greater visibility in our search results.

Google
If you are serious about gaining organic traffic from Google, you cannot and should not ignore backlinks.
Here's What You'll Learn in This Guide
When marketers and SEOs learned about how backlinks can get their site to rank, they found a way to ruin it for everybody. They started adding links everywhere—in blog comments, content aggregators or link syndicators/exchanges, web directories, buying links, to getting domains and 301-ing them to their own website.—just to game the system.
That's where the saying "marketers ruin everything" came from. They find something very useful then abuse it.
That's why it's important to get backlinks from relevant websites.
Efforts to build links just for the sake of doing so will just go to waste—or worse, might penalize you and cause your rankings and traffic to drop.
But first, let's start with the basics.
What Are Backlinks and Why They Matter in SEO
Backlinks are links from other websites that point to yours. But not all links pointing to your domain carries the same weight in the eyes of Google.
Imagine you're back in high school or college. There are a few popular people who are known to almost everyone. And there's the rest of us who's the regular kid. This is somewhat similar to how Google assigns rankings.
Think of big brand names. Amazon, Nike, Apple, Coca-cola. These are the cool kids.
When these "high authority" sites link to you, it carries more weight than if this domain links to your website. It tells Google, "Hey, this small website is cool too, you should give it some love."
But as you know, getting "approval" from the popular kids is hard. That's why if you want to rank on Google, your link building strategy should not rely only on getting links from these websites.
And that's where relevant links come in.
(Yes, there are a lot of other aspects of backlinks I didn't discuss like follow/nofollow links and the new ones introduced last year: ugc and sponsored. You can learn more about it in this great article by Moz.)
What Are Relevant Backlinks: How Are They Different from Regular Links?
I want to highlight this part in Google's message to website owners:
Keep in mind that our algorithms can distinguish natural links from unnatural links. Natural links to your site develop as part of the dynamic nature of the web when other sites find your content valuable and think it would be helpful for their visitors. Unnatural links to your site are placed there specifically to make your site look more popular to search engines…Only natural links are useful for the indexing and ranking of your site.
The easiest way to assess whether a link is relevant is to imagine you are a visitor of that page that is linking to your website. Then, ask this: "Is this useful to me? Does it add additional value to what I'm reading about?"
If the answer is yes, that's a relevant link.
Let's say you're reading a news article and it linked to a research publication about the coronavirus. Relevant.
Reading a blog post about how you can grow your website traffic then it links to an ice cream shop. Not relevant.
Following the theme of this website, the central focus should always be on user experience.
That's why if you are trying to build links to your own website, you should only focus on relevant links.
Backlink Profile: Where to Find Links Pointing to Your Website?
There are various tools to find out the websites linking to yours.
You can do it semi-manually or using a backlink audit tool. I'll go over these in detail in future guides, but I'll cover the basics here.
The most basic way to find out which websites link to yours is to go to Google Search Console.
Find Backlinks in Google Search Console
First, log in to your account. Make sure you are in the right property (if you are part of multiple websites). Find the Links section on the left-hand menu and click on it.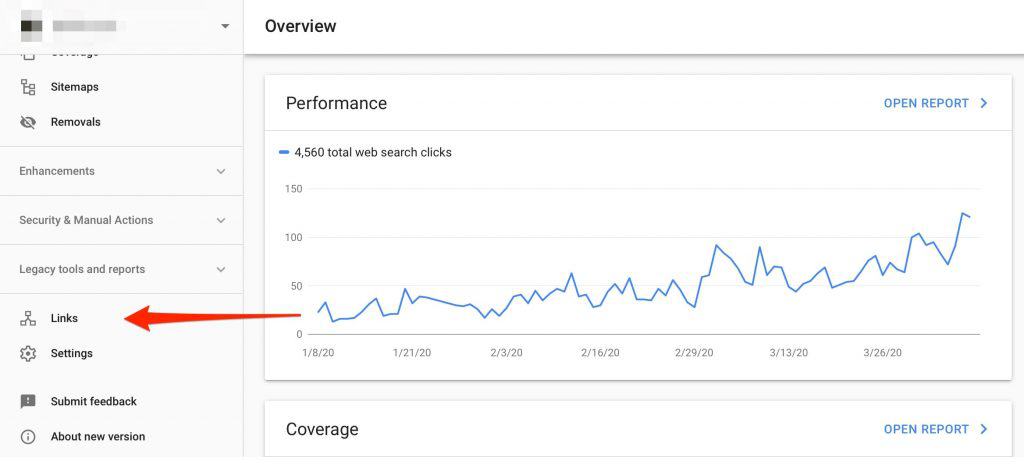 You'll then see a bunch of information about links to your site. This includes both internal and external links. You'll also find anchor text and most-linked pages.
If this is the first time you're viewing this, feel free to familiarize yourself with it. For now, click on the Export External Links and download both the More samples links and Latest links.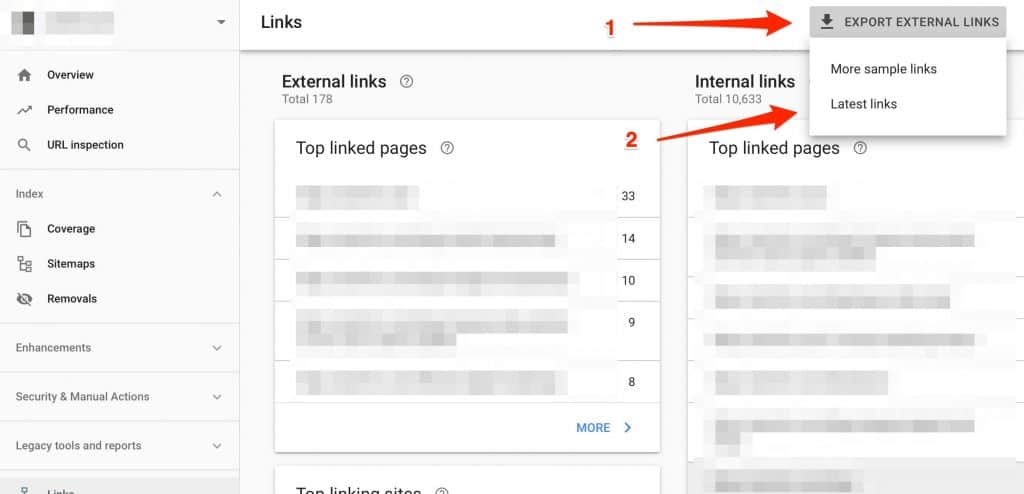 You'll be asked to choose the output format: Google Sheets, Excel, or CSV. Choose CSV so you can use it across any platform.
The next step you do is combine these two files into one spreadsheet. You now have a basic link profile.
As mentioned above, this is the most basic way to find links pointing to your website.
There are free and paid backlink auditing tools to help you get this information. Most will require a connection to Google Search Console if you want a more thorough analysis. So it's best to know how to do it yourself without relying on other tools.
Here are some names you can check out:
What Do You Do if You Find Irrelevant Links?
Now that you have an idea of which sites are linking to you, it's now time to audit them. This is something you should not skip. If you find yourself getting links from link networks and low-quality directories, your own domain could get hurt.
Links are a "vote of confidence" from one site to another. If these irrelevant sites place their votes on your website by adding a link to yours, then your rankings can get affected. Even if you didn't do anything.
Remember our cool kids analogy earlier? Now, imagine if a bunch of people started sharing rumors about you. It's circulating the school. But you don't know about it. You are happily going about your day, but you don't know people are talking about you behind your back.
If you don't take the time to regularly audit the sites that are linking to you, you would have no idea of your current standing. Even if you tried your best in other aspects, your reputation could have been affected. It's better to address those first.
There are generally two courses of action you can take:
Request removal
Disavow them
Let me briefly go over what these mean.
As the name suggests, when you find an irrelevant link, you first contact the website owner (or whoever is managing the page) to ask them to remove your link. You can try various ways:
Email them directly
Leave a message via the contact us page
Message their social media accounts
Find the domain owner via who.is if they aren't set to private
Leave a blog comment
The point is try whatever means you can to request removal first.
If that's not possible, and this should be your last resort, disavow them in Google Search Console.
If you don't already know what disavowing a link is, it's basically telling search engines that you don't want them to consider certain links when crawling your site. Why would you ever want to eliminate a backlink from your site? The more links that are pointing to your site, the better, right? Not always. There are some links that will hurt your site's SEO if you don't remove them.

Neil Patel
Disavowing sites involves uploading a .TXT file to Search Console that looks something like this:
# Two pages to disavow
http://spam.example.com/stuff/comments.html
http://spam.example.com/stuff/paid-links.html

# One domain to disavow
domain:shadyseo.com
But first, it's important to read Google's warning on using the disavow tool: You should disavow backlinks only if:
You believe you have a considerable number of spammy, artificial, or low-quality links pointing to your site, and
The links have caused a manual action, or likely will cause a manual action, on your site.
If you're still sure that you need use the disavow tool, you can visit it here.
Link Building: How Do You Get Relevant Backlinks
Google this topic and you'll find several guides out there for how you can build links. These are the most link building tactics you will find:
Feel free to try them out. Find out which one is the best tactic for you to build high-quality links. But for me, the easiest (in terms of effort) and my favorite is using HARO. In fact, I just received my first high DA backlink using this service.
If you've done some research on building links, I'm sure you've come across this. HARO stands for Help A Reporter Out. It's basically a marketplace where reporters and sources signup.
Reporters requests for information about a particular topic
Sources are people who share their knowledge and expertise
Reporters are people who write for other websites. This includes the likes of Forbes, Entrepreneur, NY Times, etc. These are the cool kids.
These journalists request for comments or inputs in the piece they are working on. Sources receive a summary of these requests 3x a day. You'll get a summary at the top that looks like this: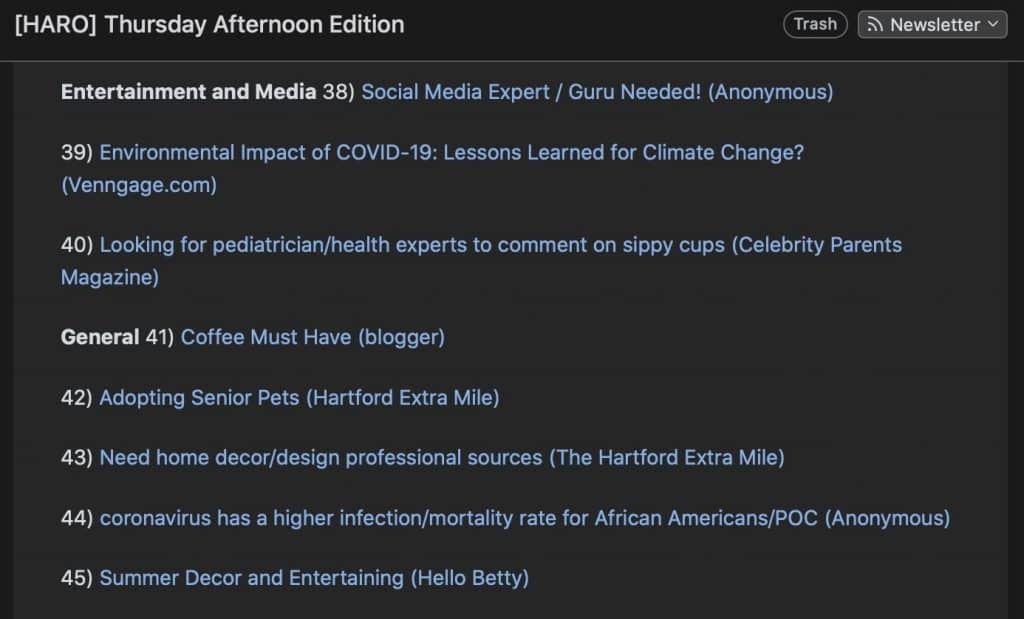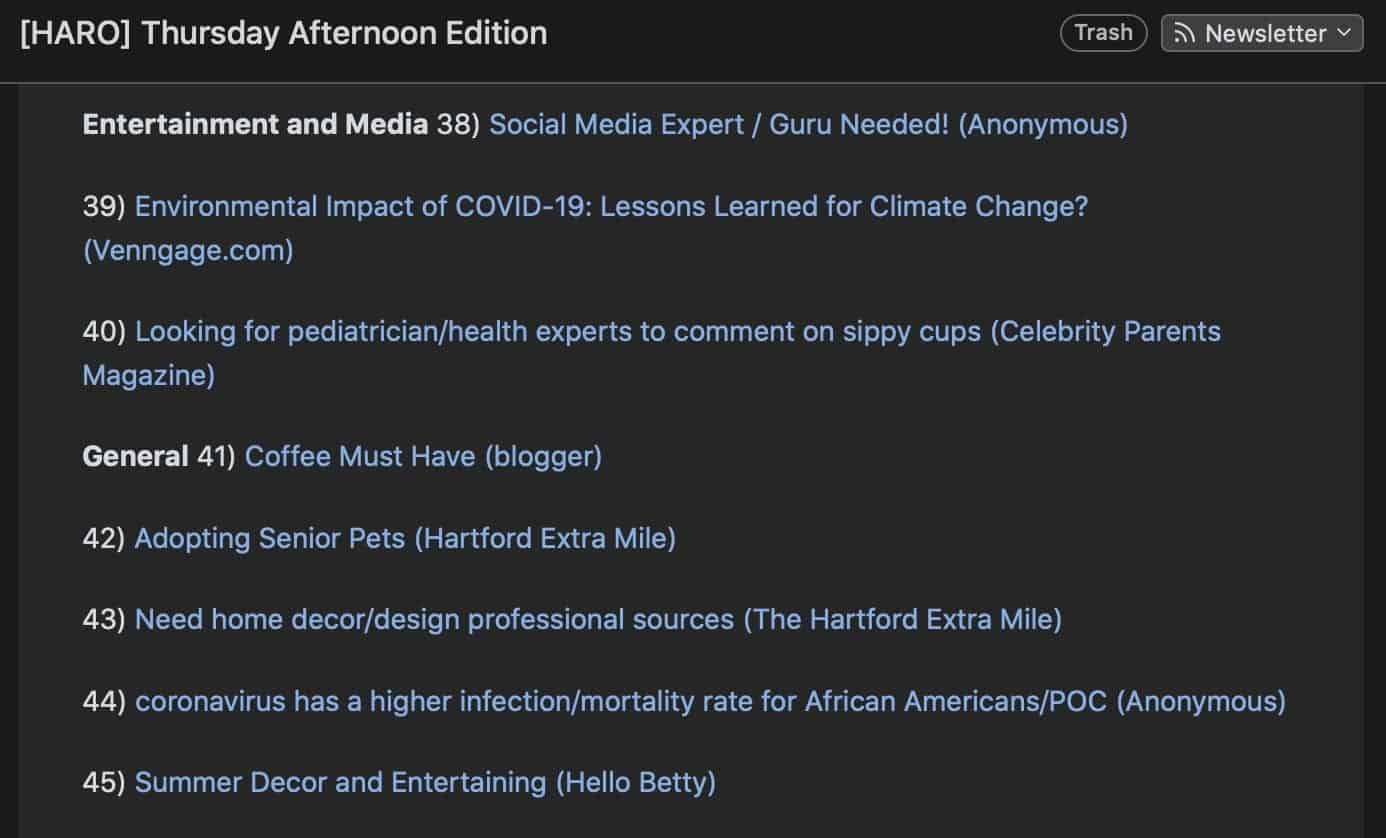 If you see something relevant to your industry, scroll down and read the details.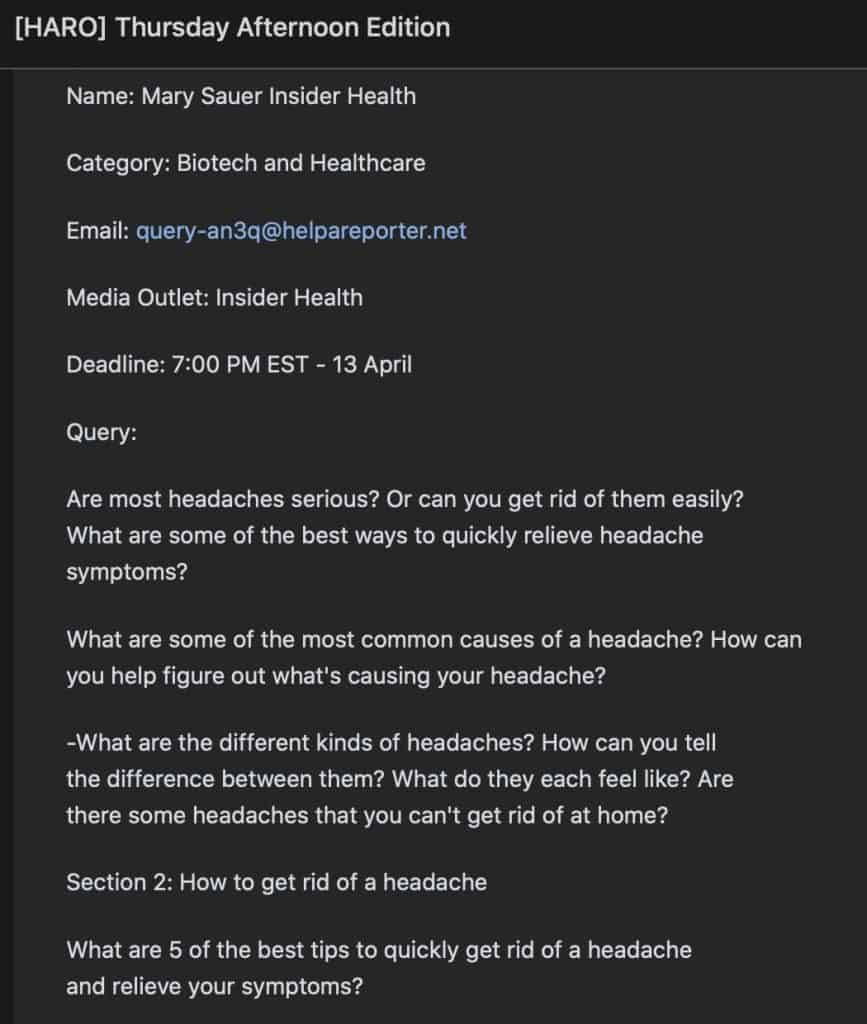 As you can see, this is my most favorite because it meets two criteria that is very important for me:
It takes "little effort" — I check my email every day so there's little disruption in my daily routine. Unlike the other link building tactics, it takes a lot of effort and time.
Relevance — I only answer for requests that are relevant to my industry/niche. In my case, that's marketing.
A note on using HARO, though. Time is of the essence. If you noticed, there are deadlines included. Sometimes, this is just a matter of hours. So once you receive them, it's best to reply as quickly as you can.
Some experts who have been doing this for a while say the best rule of thumb is within 12 hours. If you have an email that's more than 12 hours, delete that. The probability that you'll get cited is very low.
Then again, even if you replied immediately, it's not guaranteed you'd get cited or used. But that's part of it. Even the other link building tactics presented above aren't guaranteed. That's why a holistic link building strategy is essential.
Tools You Can Use for Link Building
Depending on your purpose, you can use a bunch of tools to help you get links from relevant sources. Each of the guides I shared above use tools to determine the backlinks of a certain page or domain.
Let's say you're a nutrition expert and you're trying a 10x approach where you created a better version of a page that has a lot of links. You then would reach out to the websites linking to the number one spot. In Ahrefs, it would look something like this: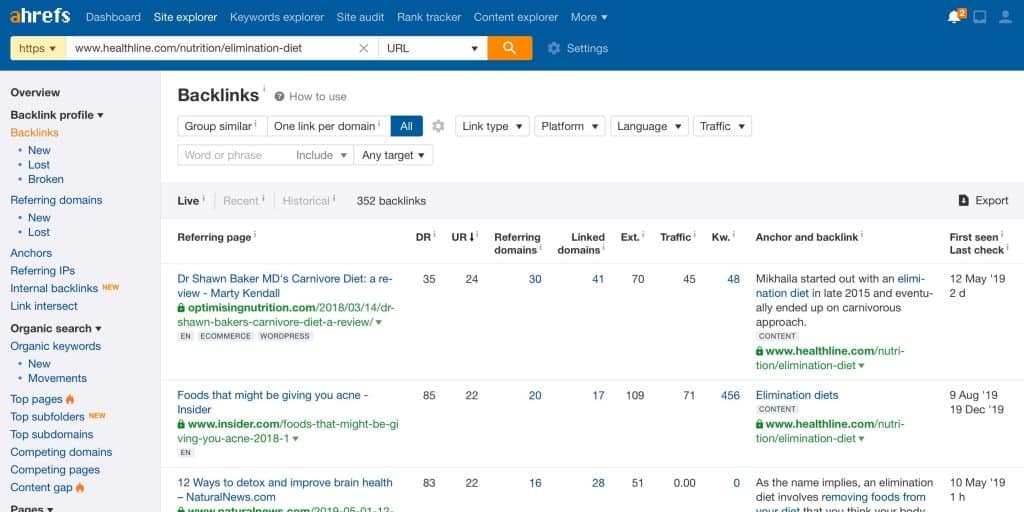 But there's a missing component to that—once you identified the page you want to target (the one you want to create a content that's 10x better), the next step is to reach out to these websites and tell them something like this:

You can do this manually:
Visit the page
Find the email (or social media or contact us form)
Send the message
If you noticed, you'll find several hurdles you need to overcome there. For example, where to you find a valid email address? Who do you contact? You can do this with tools like hunter.io.
But what if they don't have an email? You can try their social media accounts. Your last resort should be using the contact us form.
That's a lot of effort. In order to scale, you need a dedicated tool for it. So far, the only tool I know of that can do backlink audits and outreach in one is SEMRush.
That said, whatever tool or method you use, it's best to have several templates you can use to reach out. Check some of the ones that worked for me.
Scripts and Templates to Get You Started
Here's a template that I have been using in HARO: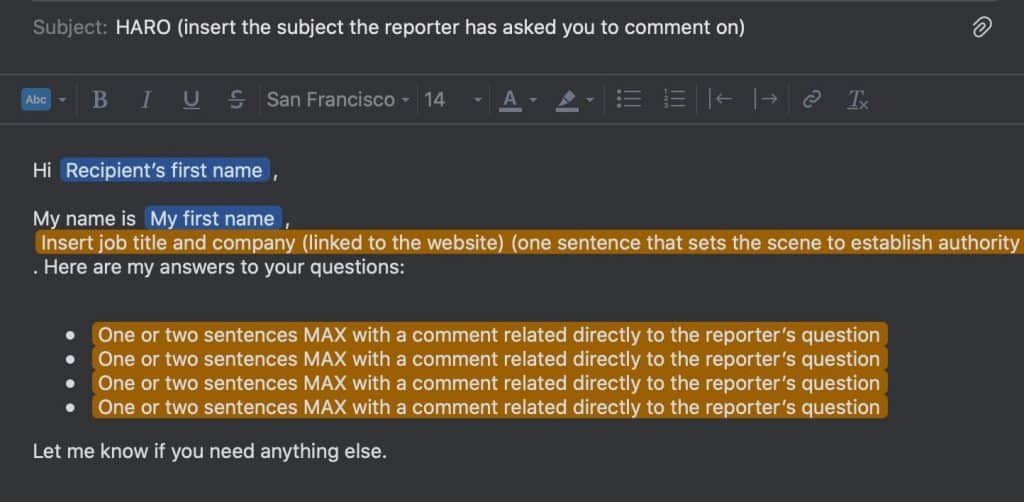 Now, here's a variation of the template I shared in the previous section.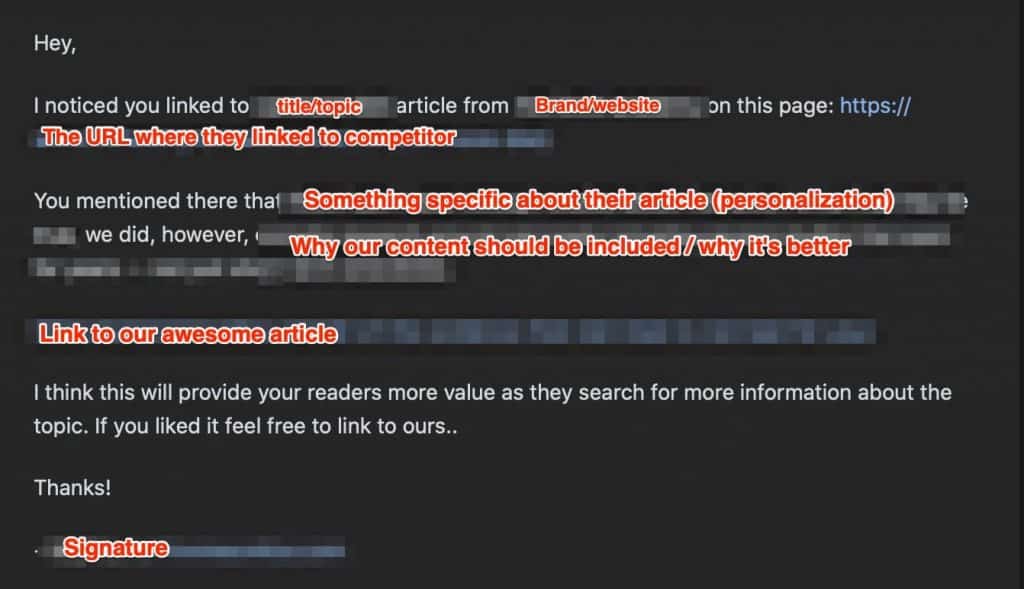 It basically reads like this: "Hey you linked to our competitor on this page. I liked that you mentioned this. By the way, we also have something better that covers this and that. If you like it, please link to it."
It's a good idea to remember that these scripts are only a starting point. A personalized approach will have higher chances of success. That's why you'll see that this filled-out email is much longer than the initial script.
A Word of Warning
This is something I strongly believe in.
Don't start link building outreach without having a good foundation. By that I mean having the following:
Sure, you can do your outreaches and everything, but you'll find out that you won't get results.
If you look at link building guides from reputable sources, you'll notice they all have a common theme: they use high-quality content to add value.
Remember, links are useful if they are relevant to the reader. If the website you are trying to get a link from sees your website and it loads slowly or doesn't have content, why do you think they'll want to link to you?
Conclusion
Remember, links are a vote of confidence from one site to another. That's why it's important to get links from relevant websites. Avoid building links from low-quality sites. But sometimes, even if you don't do something, you'd still get these irrelevant links.
It's great that you can do something about it. Request removal via manual methods. Then, as a last resort, disavow them.
If you have a great piece of content, it's easier to build links to them. People and other websites will gladly link to yours if they provide value. So focus on creating high-quality content first. Once you have that, you can incorporate a link building strategy to supplement that.