As you already know, getting backlinks is important. We all know that links from other domains are one of the ranking factors on Google. But acquiring high quality and relevant backlinks is key if you want to grow your traffic and rank on Google.
Last April 5, I registered this domain and launched it the next day.
Since this is a brand new website, it will have zero scores across all SEO tools.
Today, April 19, I got my first high domain authority backlink. And a pretty relevant one too.
Depending on which DA authority checker you are using, you're going to see different numbers. Here are the different scores on the 4 most well-known SEO tools:
Ahrefs: 48 Domain Rating (DR)
SEMRush: 33 Authority Score (AS)
Moz: 27 Domain Authority (DA)
Ubersuggest: 38 Domain Score (DS)
I call this link high because mine is zero. Moz's domain authority score gave the lowest score at 27, while Ahrefs gave the highest at 48 DR.
The acceptable standard when referring to domain authority seems to be Moz's DA score.
Regardless of which one you look at, that's still higher than mine. So I consider this a big win!
How did I do it? Read on to find out.
In the interest of transparency, this post contains affiliate links to SEMRush and other tools. At no additional cost to you, if you click through and decide to purchase, I will earn a commission. Regardless, I only recommend products I use and believe will add value to you. I am a customer and a user of SEMRush (and other tools I mentioned). I included non-affiliated links at the bottom of the page should you not want to click on the affiliate links. If you do this and decide to purchase, I will not get any commissions from it.
A Quick Overview of Domain Authority
Domain Authority (DA) is a search engine ranking score developed by Moz that predicts how well a website will rank on search engine result pages (SERPs). A Domain Authority score ranges from one to 100, with higher scores corresponding to a greater ability to rank.
I'm not going to go tackle this topic as a lot of sites already cover this. There's a lot of factors involved there so I suggest not over-thinking it.
Head on over and create a free account in Moz and find out your domain authority.
I also suggest downloading the MozBar as an extension for Google Chrome browsers. It's a free tool that helps you see SEO metrics for any page.
Link Profile: Why Relevant Backlinks Matter
A link profile is the makeup of links directing to your site. Google favors links from a variety of sites as well as high-authority sites.
Backlinks, also known as inbound links, are links that come from other web pages.
The more backlinks you have, the higher chances you have at ranking higher.
The higher number of links (in this case, referring domains), the higher traffic you get to the your website as well.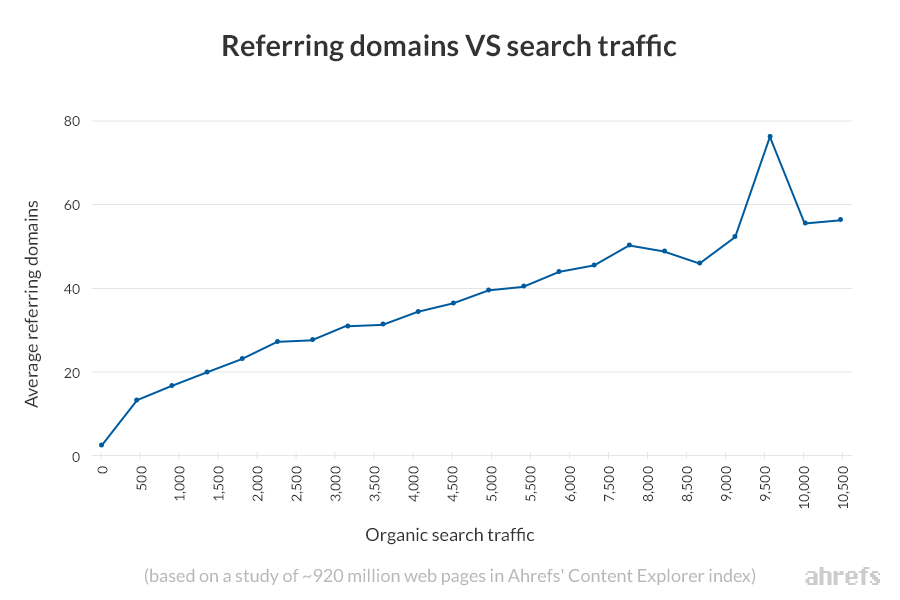 Referring domains are unique domains/websites. For example, if this website links to you 5 times on 3 different pages, that's only counted as one referring domain.
How to Get Relevant Backlinks Using HARO
It's the same recommendation I made here— a single tactic that is a standard recommendation by virtually every SEO expert.
The answer to on how I got this high DA backlink: become a source in HARO.
That's pretty much it.
If you haven't tried HARO already, just follow these 5 simple steps:
Signup as a source
Receive daily emails
Answer relevant queries
Respond to further clarifications
Monitor backlinks
Step 1: Signup as a Source in HARO
I described this process here and showed some templates as well, so I won't go over it again.
Basically, you create an account at HARO. Make sure you signup as a source. Journalists (the other side of this market) will post their "queries" and the system will send out an email to the sources.
Here are some HARO link building tips:
Find out which relevant industries/categories you want to receive
Don't reply to every one of them; pick your battles
Create templates for the basic structure of your email
Create templates for answers in your niche
This is the first link I received in this website, but I've received links from other sites. The two highest ones have a 70 DA and 51 DA. Not the highest, but certainly high authority sites.
Step 2: Check Your Email Daily
Speed is key when it comes to this link building strategy.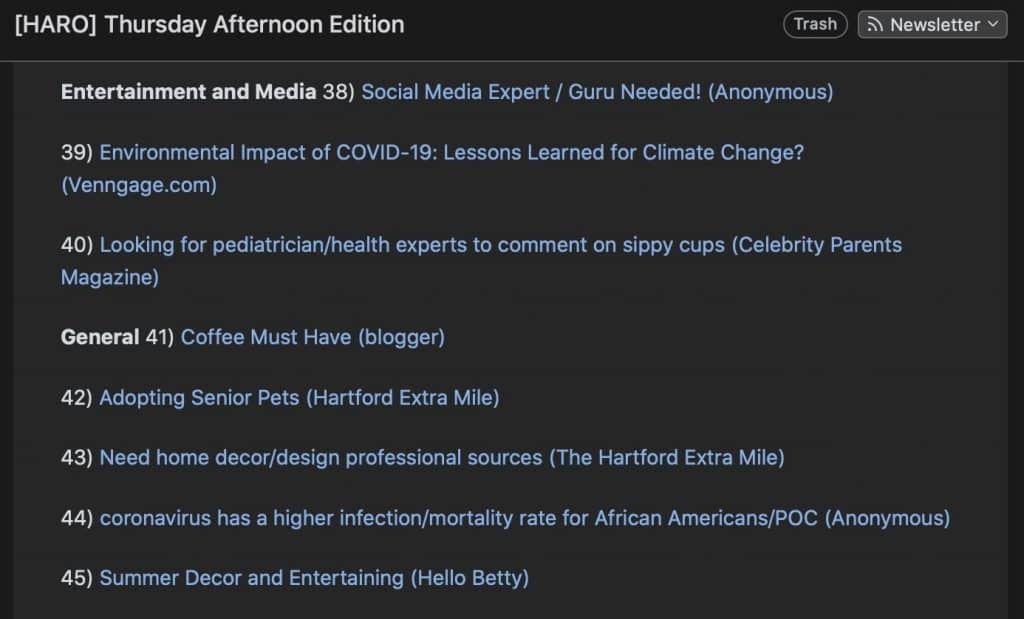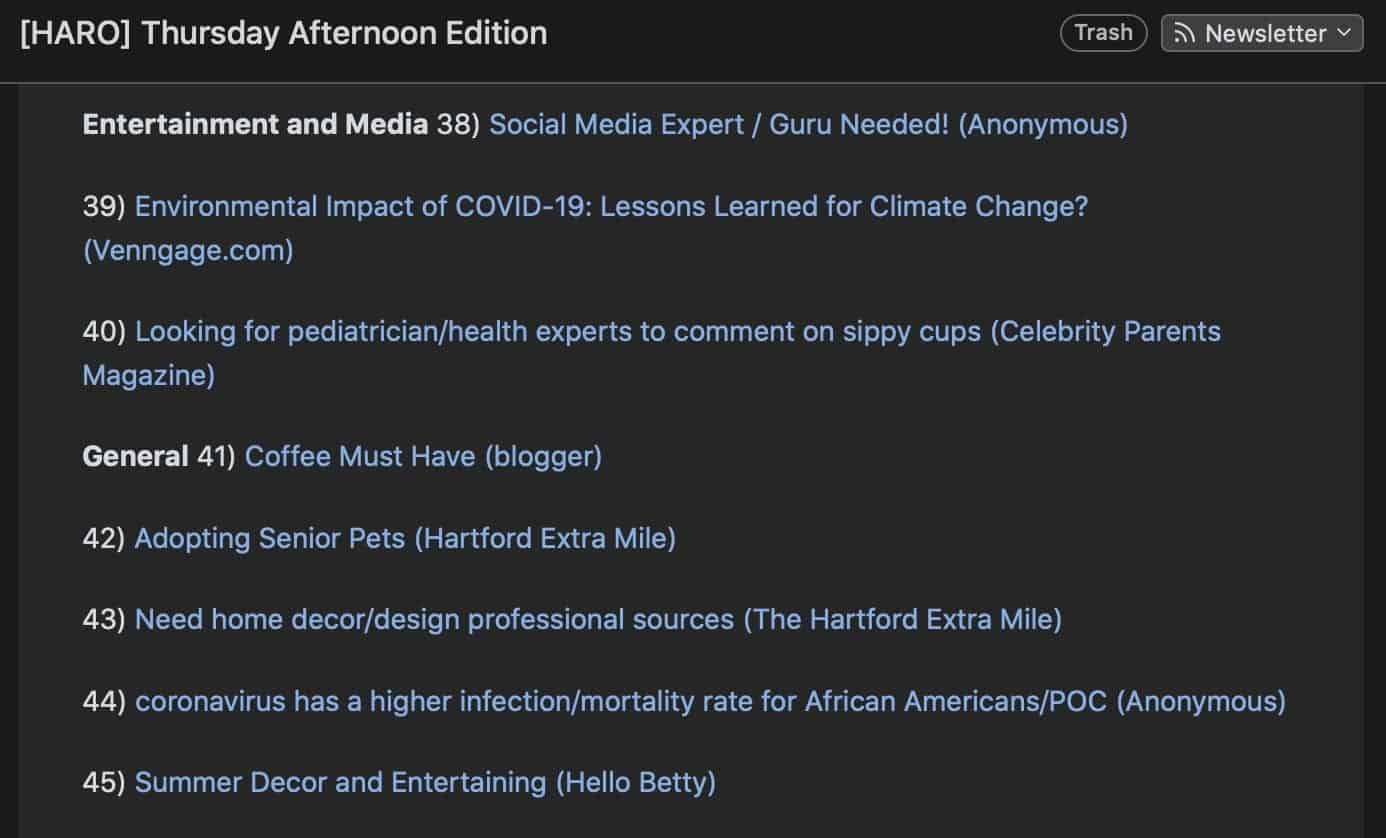 Sources will get emails like this Mondays through Fridays at these times:
5:35 a.m. EST
12:35 p.m. EST
5:35 p.m. EST
Step 3: Answer Queries Relevant to Your Industry
A mentioned above, you receive emails every weekend. I haven't been doing this as long as others, but the advice you'll usually get is to answer queries within 12-24 hours.
If an email has been sitting for longer than that time, you might as well delete it and wait for the next one.
By answering emails, you're basically sending a pitch to these journalists to use you as the source for their content. They get hundreds, if not thousands of replies, so respect their inboxes by following these guidelines:
Get straight to the point
You'll often see a "requirements" section—if you don't fit it, don't bother replying
Be courteous, be nice
Follow the rules—every query has a reply-to email like the one below. Answer the journalist there, not find them on Google or on social media.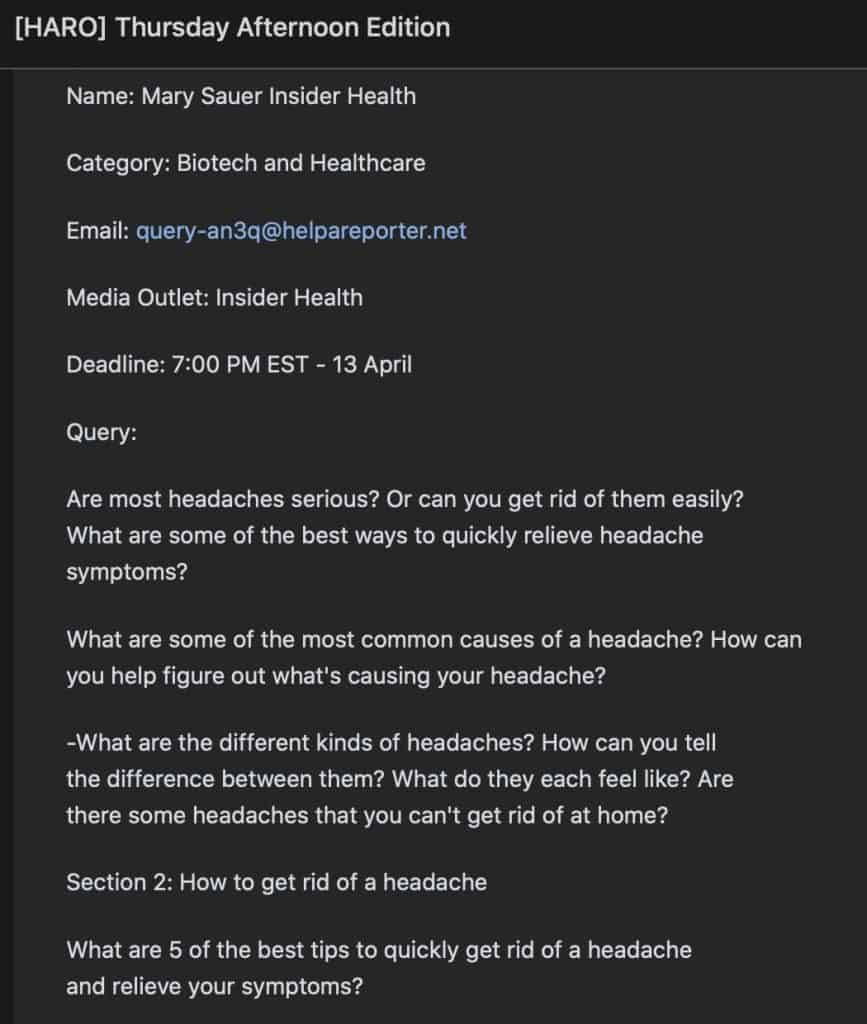 Step 4: Respond to Further Questions
After answering HARO emails, you'll typically fall under one of these outcomes:
| | Get a Link | Don't Get a Link |
| --- | --- | --- |
| Journalists Who Reply | A | B |
| Journalists Who Don't Reply | C | D |
Let's go through one of these and what you should do:
Scenario A: Journalists Who Reply and You Get a Link
This is the ideal scenario.
You provided awesome answers and they told you about it. This gives you a chance to build on that relationship.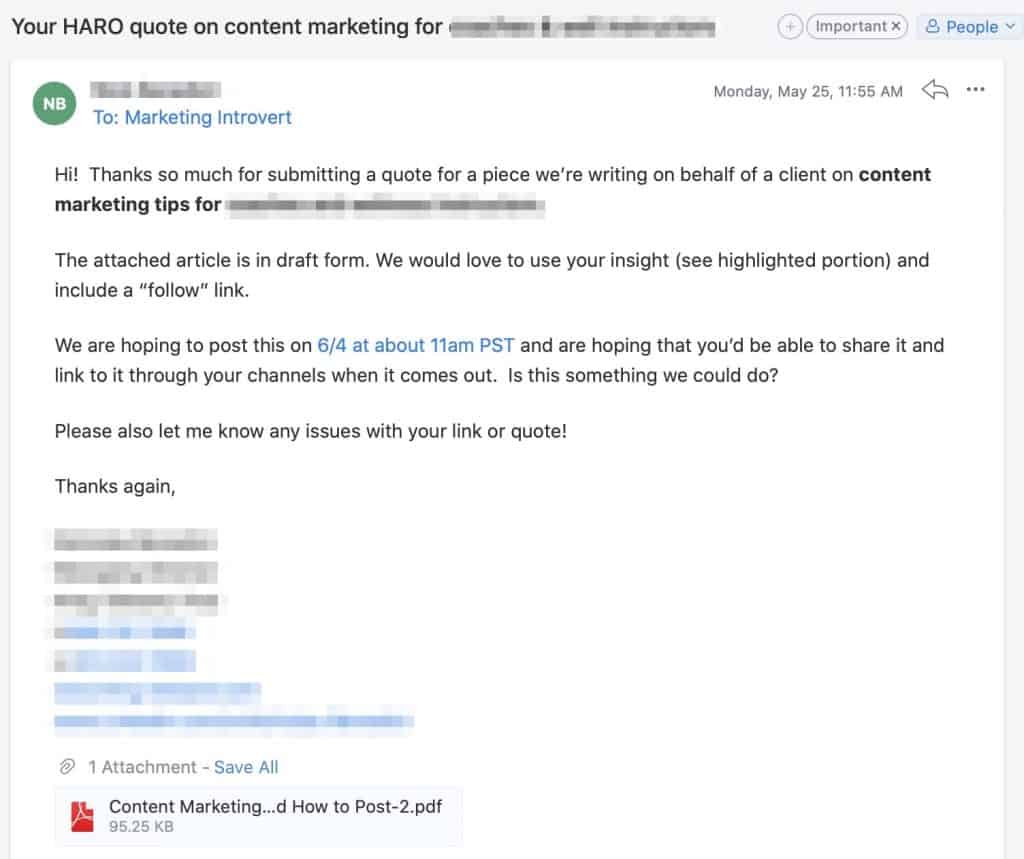 What I do is snooze this email back again 30-45 days into the future. That way, when it pops back up on my inbox, I can send over a quick email to touch base.
Sometimes, they do ask some further questions or clarifications. Or maybe make some changes to your response to fit in a certain criteria.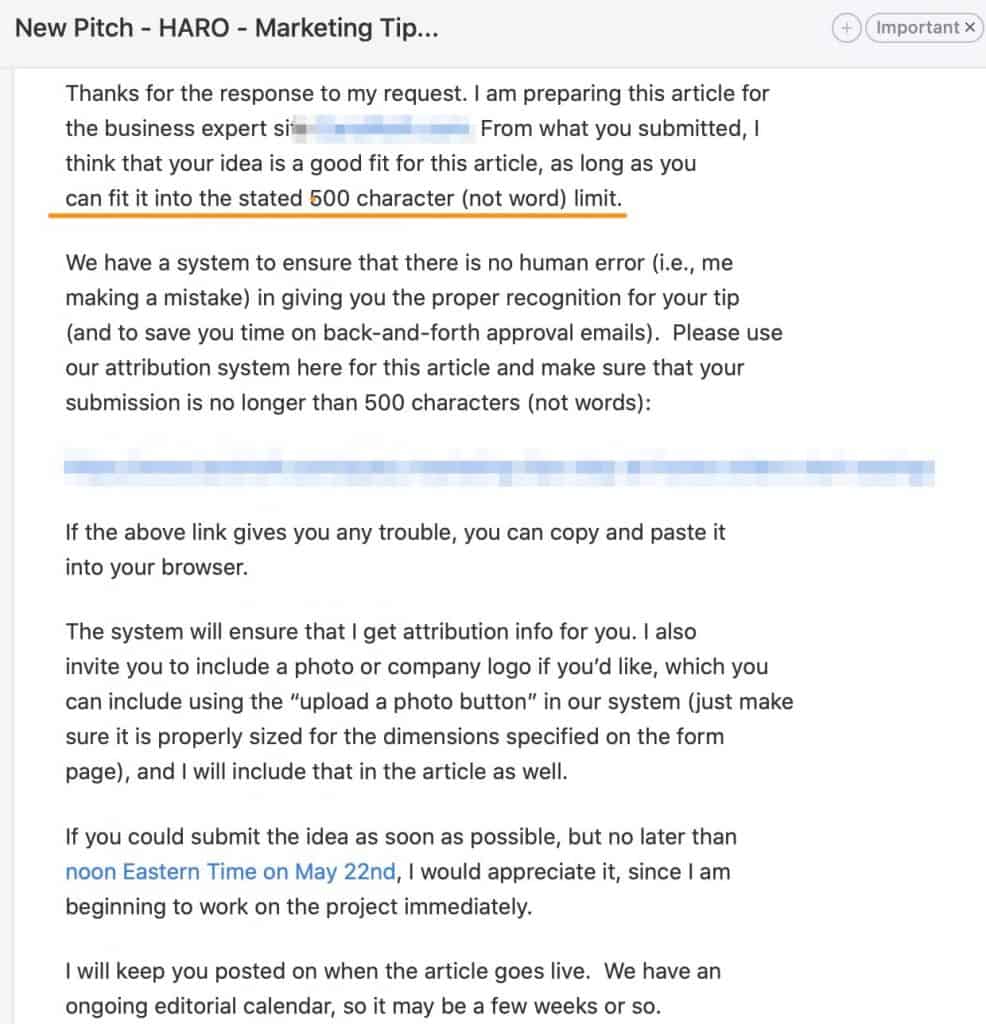 Scenario B: Journalists Who Reply and You Don't Get a Link
Sometimes, you just didn't make the cut.
It happens.
Get over it.
The next best outcome here is you, just like in the previous scenario, build a relationship with the journalist.
Scenario C: Journalists Who Don't Reply and You Get a Link
The next scenario is when you suddenly just get a link.
I received my first backlink after the person tagged me on Facebook and Twitter.
Scenario D: Journalists Who Don't Reply and You Don't Get a Link
Like I said in my title, I got a 4% success rate.
That's like 1 link for 25 email pitches.
I'll need to update this again since I'm answering HARO emails daily.
I started from scratch so this isn't that big a deal.
Most guides you'll see don't mention any success rate because the numbers aren't that great. Plus, if you really dig in, most will show you results dating back to 2012.
That's pretty outdated if you ask me.
Step 5: Monitor Backlinks
The last step is to monitor your backlinks.
Sometimes, they will send you an email back if you've been chosen. If not, they may just link back to your site without letting you know.
Sometimes, as what I experienced here, I just received a notification on Twitter and Facebook that they tagged me in the post.
Regardless, it's important that you track your backlinks. After all, you're spending resources on building them, it's equally important to know if you are making progress.
Since I use SEMRush, I have the Backlink Audit tool to notify me if I gained new backlinks from these efforts.
Conclusion
Building backlinks takes time and a lot of effort.
But sometimes, doing things that don't scale helps a lot. It's one of those 80-20 rules.
Getting links properly takes time. That's why it's important to look at this in the long-term.
Do you use HARO? Any tips you used that got you links from high DA sites? What link building tactics have you used? I'd love to know. Let me know in the comments below.
List of non-affiliated links used in this post:
How to Get Relevant Backlinks
Signup as a source in HARO

Create an account at HARO. Make sure you signup as a source. You can also customize the topics or preferences here.

Check your emails daily

Sources (aka you) will receive emails from Monday to Friday at three different times: 5:35 a.m. EST, 12:35 p.m. EST, 5:35 p.m. EST. Generally speaking, if an email is 24 hours old, your chances for getting featured drops significantly.

Answer relevant queries

Scan through the list summary at the beginning of the email. Once you find something that's relevant to your industry, check the details to verify. Journalists/reporters are busy people. Don't waste their time answering emails not relevant or where you have no expertise in.

Respond to further questions

Sometimes, there are certain policies in place like word counts, or they ask you to clarify your answer. Whatever it is, respond quickly and succinctly.

Monitor your backlinks

Sometimes, you just get a link back to your site. Sometimes, you do get notified. Regardless, it's important to keep an eye for your backlinks.