Ahrefs as an SEO Tool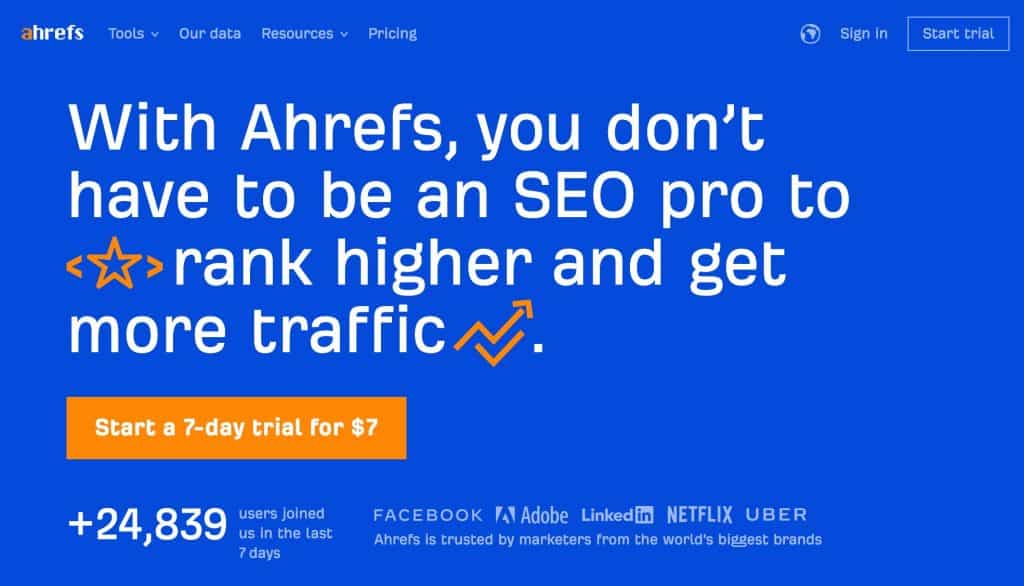 When choosing an SEO software, one of the names that often comes up is Ahrefs. They are an SEO software that helps you increase your rankings by giving you data on which keywords to rank for, who are ranking, and the backlinks they are getting. They also recently came up with a free (but super limited) plan which I'll get to below.
The problem that most marketers don't realize is that specialization often has a lot of limitations. This is the biggest reason why I always review the technology stack of my clients and provide recommendations if there's often an overlap in features that are causing inefficiencies which almost always ends up costing more.
If you plan on improving your online presence, increase traffic to your website, and rank higher on Google, you have to first understand your goals.
Identify Your Marketing Goals
If you're reading this, then it's safe to assume that you are looking to increase your organic traffic, that's why you are looking for Ahrefs alternatives.
But don't stop there.
What other marketing goals do you want to achieve? How will you get there?
Researching keywords won't do any good if you don't create content around it. Simply adding keywords to your title tags and meta descriptions won't get your website to rank either.
As you probably already know, there is no one individual approach that can drive growth to your business. And with over 200+ ranking factors, it's pretty difficult to find out which one to focus on.
From my experience, there are three crucial areas you need to work on if you want to rank on Google:
Fast website—aim for at least 3-second load times
High-quality content—a good way to think of quality content is by answering this question, "Is it something that you'd want to publish in a big publication like Forbes, Wall Street Journal, or CNN?"
Relevant backlinks—not all links are created equal. In fact, the wrong links can cause more harm than good/
Focus on the outcomes these three things get you and you will see your site improve its rankings in no time.
Now, the question is, does Ahrefs help you improve your standing on these three core pillars?
Let's find out.
Essential Software Features You Need to Rank Higher on SERPs and Increase Organic Traffic
1. Site Audit: Determine Which Issues to Fix on Your Website
The ability to audit your website for issues is the first critical feature your chosen SEO software should be able to do. This is more known as a site audit or on-page SEO audit.
Most of the time, this focuses on technical on-page SEO elements such as anchor texts, internal links, etc.
That's a basic requirement.
The one thing you need to look for is whether or not the tool also helps identify ways to improve your site speed.
The three most common culprits are unminified files, uncompressed images, and too much stuff going on (like animations) that adds bloat to the page.
Did you know that the top 10 results on Google have an average of 1.6 second page load times? That's why it's vital that you improve your site speed if you want to have a chance on ranking on the first page of Google.
2. Keyword Research: Know Which Keywords to Rank For
This is a given in any SEO software. You should have the ability to see which keywords you can rank for, or find out what other websites (primarily your competitors) also rank for. That way you can copy what's working for them and apply it to your own business. This is commonly known as competitive research.
At the very least, you should be able to find metrics such as:
Keyword difficulty
Search volume
3. Content Marketing: Creating New or Improving Old Content
Finding all the keywords you can rank for won't do you any good if you don't add them to your website. But that doesn't mean you stuff them in your title tags or meta description either.
You need to create content for those keywords.
Think about the last time you Googled something. Did you think the website owner simply slapped on a few keywords on that page then started to show up on the first position of Google?
Most likely, that article contains hundreds if not thousands of words, carefully written to answer the question you asked. It's formatted properly with subsections and images to break up the copy.
This is why it's vital that your software can help you craft the perfect piece of content that pleases both search engines and readers.
4. Backlink Audit: Find Out Your Backlinks Profile
Understanding your backlinks profile is a critical feature your chosen SEO tool needs to do. After all, backlinks are the single most popular determinant of rankings. The more backlinks you have, generally, the higher your rankings.
By knowing the links that are pointing to your domain or your competitors, you gain the ability to know where exactly you stand. This helps you identify what you need to do or improve on.
5. Link Building
The last critical feature your marketing tool needs is the ability to help you with link building. After all, we mentioned in the previous section that you need backlinks to rank higher.
So, knowing your link profile is only half the battle. That's why there are so many link building strategies out there—because of its importance in your overall marketing performance.
How Ahrefs Rank Against These Essential Features
Now that we listed the essential features you need to have if you want to rank higher on Google, let's look at how Ahrefs compare to these:
As you can see, Ahrefs comes short in a few of these features.
As an SEO tool, it does well. It shows you keyword data, who your competitors are, what to fix on your site, and other important backlinks data.
But the rest of the things you need in order to rank higher—content creation and link building—it's fairly lacking.
That's why I highly recommend SEMRush because it has all these features and more. Take a look at how it stacks up against these essential features:
Verdict: SEMrush Is the Best Ahrefs Alternative
Ahrefs may be a popular choice among SEO professionals because of its pricing, but when it comes to looking at real-world essential features you need to get your website ranking higher and improving your overall presence online, SEMRush beats it across the board.
As mentioned above, you need to:
Have the ability to fix issues on your website
Find lucrative keywords you can rank for
Create quality content
Get more backlinks to your website
Ahrefs does a good job with most of these, but it's lacking on certain aspects. If you want to get more value for your money, SEMRush is a better option for you.
Frequently Asked Questions
Enjoy a 7-day Free Trial of SEMRush
SEMRush offers a similar pricing structure to Ahrefs which starts at $99/month. But remember, you're getting more value for your money with an SEMRush account.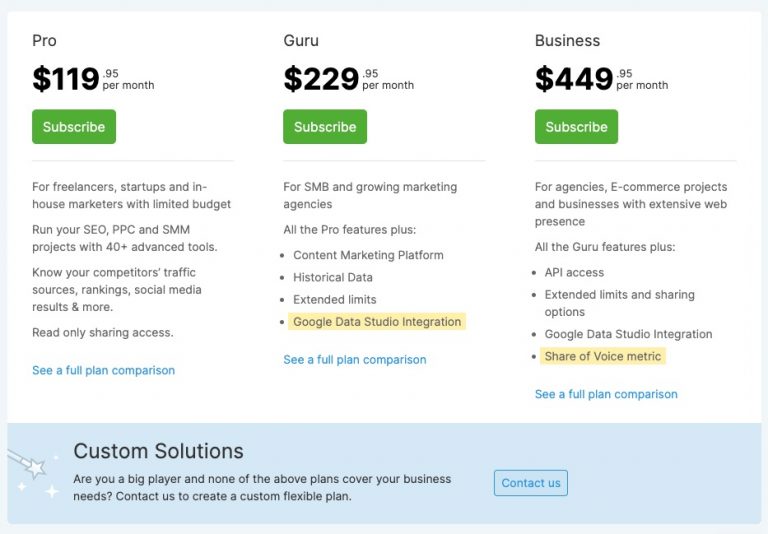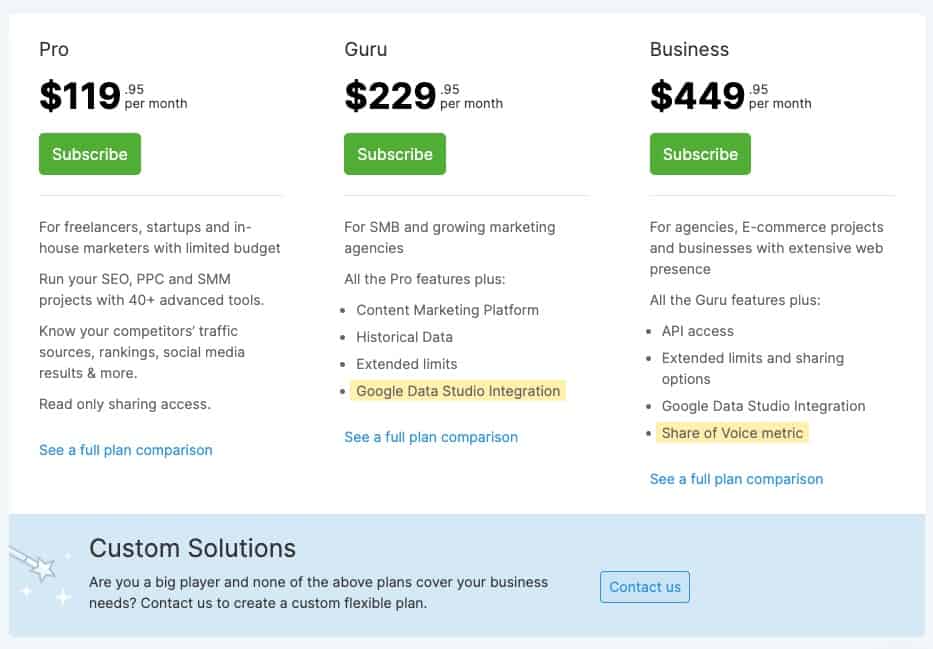 You can try out the Pro plan, but to get the most value for your trial, I recommend getting the Guru plan instead especially if you meet any of these criteria:
You know the value of content marketing to your business/website
You want to create high-quality content every single time
You're looking to scale content production
You're an agency or consultant working with more than 3 different websites (domains)
---
Good to Know
The links above to SEMRush are affiliate links.
Should you decide to click through them and purchase, I earn a commission. Regardless, I don't endorse tools that I don't use myself. In fact, I am a paying SEMRush customer.
SEMRush offers a 7-day money-back guarantee on any paid plan.
This technically increases your trial to 14 days. It gives you more time to take advantage of all the features of SEMRush and how it can add value to your business.
Email series to maximize your trial
I created a 7-day email series that you can join now to help you maximize your trial of SEMRush. Note that this is for a Guru plan.
I cover the following topics:
Perform a site audit to fix your on-page SEO and other technical errors that are holding you back from getting traffic and rankings
Research keywords to write about
Uncover hidden opportunities your competitors are neglecting and steal this traffic from them
Plan and create SEO-optimized content
Analyze your link profile and disavow toxic links
Perform link building outreaches
And many more
You'll receive an email each day to help guide you through setting up SEMRush and taking full advantage of its features.
At the end of this series (and your trial), you would have gained a lot of value. And since you can export most of the data, you can go ahead and cancel your trial.
Of course, I'd recommend you stay on and become a customer so that you can have historical data. This will help you see trends. Plus, you'll also have a way to implement more advanced techniques to further grow your traffic and increase your website rankings.