The coronavirus pandemic forced a lot of businesses to shut down. But despite this, a lot of business owners also found a way to pivot and move some or parts of the business online.
Some were more prepared than others. They already have the building blocks set up that's why they were able to transition faster.
But if you are new to digital marketing and want to learn how to start marketing your business online, then this guide is for you.
Before diving in, I'd like to make a distinction. This guide is not for people who want to create an online business from scratch; rather this focuses on helping you build a better online presence for your offline business.
Here's what you'll learn here. I'll cover 4 different phases with multiple steps or tips to market your business online.
Phase 1: Set Yourself Up for Success
Phase 2: Focus on Your Customers
Phase 3: Set Up Your Tech Stack
Phase 4: Market Your Business Effectively
Additional Tips
In the interest of transparency, this post may contain affiliate links to the tools mentioned. At no additional cost to you, if you click through and decide to purchase, I will earn a commission. Regardless, I only recommend products I use and believe will add value to you.
Phase 1: Set Yourself Up for Success
Create a Website
The first thing you need to do is create a website.
When it comes to online marketing, there are only two things you have full control of:
Website
Email marketing
All other channels are simply rented. This includes Facebook or Amazon.
You cannot and should not build your business on top of others' websites.
That is why it's very important that you have your own website.
It's the hub of your business online.
If it isn't on Google, it doesn't exist.

Jimmy Wales, Wikipedia Co-founder
Install Analytical Tools
One of the essentials features you need on your website is an analytics and performance tracking tool. This allows you to measure everything that happens on your website.
The most well-known tool out there is Google Analytics.
And it's free to boot.
Create an account and install it on your site properly.
Focus on the Basics
If you want to start marketing your business online, you have to focus on laying a solid foundation. Remember to focus on these essential website features, rather than copying everything that you see on other business' websites.
Oftentimes, business owners and marketers focus on a "good-looking website."
And while there's absolutely nothing wrong with having a great design, the problem is if you don't know what you're doing, it can cause your website to load slowly. This is known to affect website rankings.
Here are some good rules of thumb. Do not…
Use page builders
Add unnecessary animations
Rely too much on plugins
forget to compress your photos/images before you upload them
Take a look at this to learn more how you can build a strong foundation for your website.
Phase 2: Focus on Your Customers
Now that you've laid the ground for success, the next phase to market your business online is to have an obsessive focus on your customers.
This will help you future proof your business.
It's a fact that the more you focus on your customers, the more successful you can be. For example, here's what Amazon says about this: "Leaders start with the customer and work backwards. They work vigorously to earn and keep customer trust. Although leaders pay attention to competitors, they obsess over customers."
When it comes to online marketing, here's how that works:
Keyword Research: Learn What Your Target Market Are Searching Online
In a traditional business, there is often one thing that makes or breaks a company: location.
But location doesn't matter much online.
What matters more is your rankings on search engines.
And at the heart of ranking online are keywords—more specifically their search volume.
Think about this for a second: if no one is searching for a keyword, you will not receive any traffic from it.
How that translates to a brick-and-mortar business is that you opened your business in a location where no one can find it.
There are free and paid tools that can help you find which keywords your target market are searching for, including these important metrics:
Search volume—often expressed in monthly periods. The higher the better.
Keyword difficulty—expressed in percentages. This metric tells you how easy/hard it is to rank for this particular keyword.
Cost per Click (CPC)—this is often in $ (or your local currency). This shows you the average price advertisers are bidding for this keyword. Generally, the higher rate the more competitive and relevant the keyword is.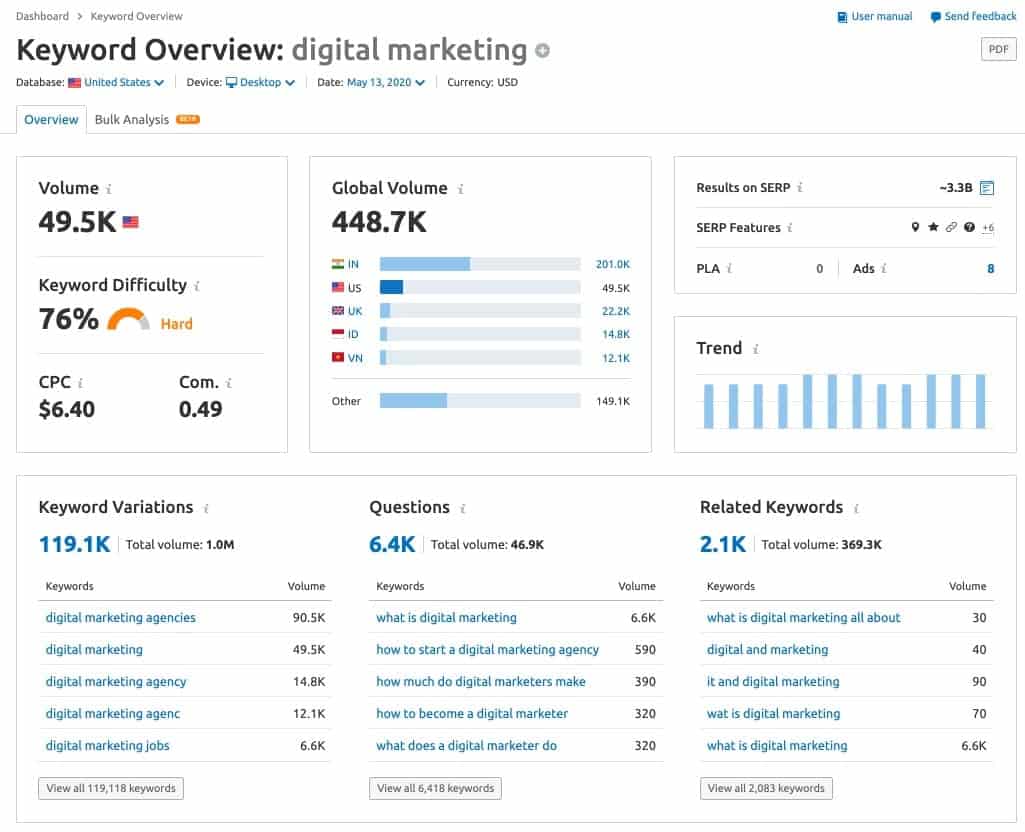 There are other data presented by different tools, but I won't go into them in detail.
Generally speaking, you'd want to focus on keywords people are searching for (high volume), easy to rank for (low difficulty).
Once you find these keywords, use them in the next step.
But note that there are more nuances and strategies for targeting keywords you want your site to rank for.
Content Marketing Basics
I should have stated this at the beginning, but you need content if you want to compete online.
The reason is simple…

A vast majority of online experiences start with a search engine. Neil Patel, one of the leading experts in digital marketing claims this is as high as 93%.
And in order to appear on search engines, you need to create content.
That's why the keyword research step is important. Once you have those, you create the content for your website.
The most common type of content is written articles. But that doesn't mean you are limited to this. There are other types of content such as videos, images, podcasts, etc.
My recommendation is to start with written content or blog posts. Once you get a hang of this, start with other types of content.
Demonstrate Your Expertise by Solving Their Problems
The secret to getting traffic to your website (and ranking online) is to create content that solves the problems of your target customers.
This accomplishes a couple of things:
It sends a signal that you really understand their needs
You are giving away something valuable
And since you're demonstrating your expertise and giving away your knowledge, you will be rewarded by your audience with their hard-earned money when the time is right.
This makes a lot of sense if you think about it.
In a traditional business, you get a chance to interact with the people before buying. But online, you mainly interact with a website.
Face-to-face, you shake their hands, smile, greet them, show them around your store, and other behaviors you cannot do on your website.
That's why by demonstrating your expertise in your content is the bare minimum you can do. Answer their questions proactively. Handle their common objections.
This is one of the ways you can get traffic to your website.
Phase 3: Set Up Your Technology Stack
The next step towards marketing your business online is to choose the technology and tools that will help you succeed.
As mentioned earlier, there are only 4 essential features your website should have. We've already covered two above. We'll tackle the last two here.
Email Marketing Software: Lead Generation and Communication
Email marketing is an absolute necessity for your business online because it fulfills two things:
Helps with lead generation; and,
Provides a way to communicate with your target market
In fact, this is the bare minimum you need to have on your website.
Lead generation is often done through forms. The most basic is a contact us page. Once people fill-out the form, they enter the software. From there you can now send them emails.
For example, at the top of my blog page, you will find a form that looks like this.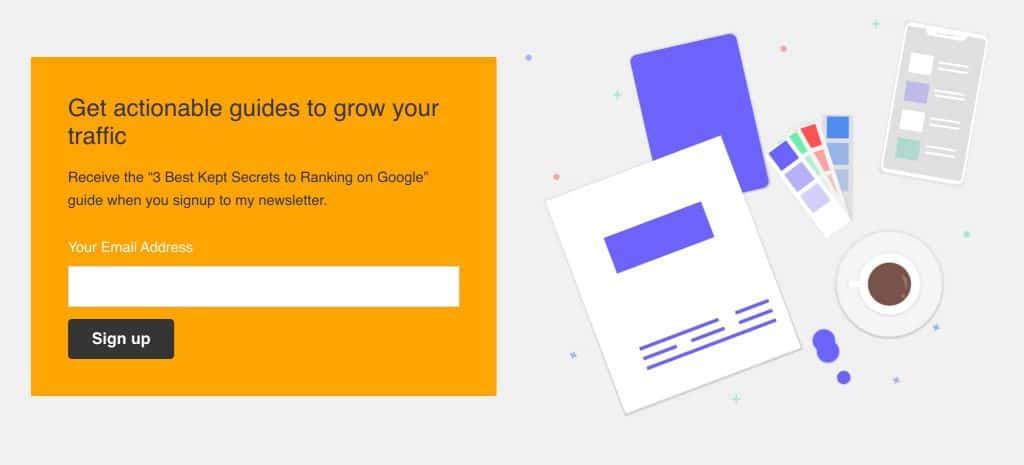 My homepage also has a form. If you scroll to the bottom (the footer section), I also have a form.
Then, for people who fill out your forms, you'd want to have them enter a nurturing sequence that shows and adds value before asking for their money.
Noticed that this is similar to the approach for creating content?
Also, noticed how this is vastly different from the emails you receive daily from other brands?
If you want to succeed, you have to be different. You have to focus on your potential clients.
They don't care about your products and services.
They care about their own problems. They want to find a way to make it go away.
Think about it.
If you suddenly receive an email asking you to buy something from a website you've only heard of yesterday, what will you do? Will you buy from them?
Chances are, you probably won't. You'll do more research, learn more about the company, etc.
So, why not make it easy for them and provide that information before they look for it?
My preferred email marketing software right now is ConvertKit. That said, I'm using MailChimp for this website because I already have an account for a long time.
Whatever provider you choose, the most important is to have use one now.
Social Media Accounts
This goes without saying but you may need to create social media accounts for your business.
You don't need to be on every platform, rather, the key is to focus on where your target market is hanging around.
Most likely, that's on Facebook and Twitter. If you're a B2C company, Instagram might be a good choice. If you're in B2B, LinkedIn is a goldmine.
These are just generalizations, of course.
Like I said over and over, focus on your customers.
That's the key to succeeding in internet marketing.
Customer Relationship Manager (CRM) Software
A CRM is not necessarily required, but it helps a lot especially if you have a long business cycle.
It helps you manage your deals and leads in a more organized way.
Depending on your business model, this may be a must-have or a nice-to-have.
Payment Gateway
If your business requires you to sell online, then this is an essential feature.
If you're already using Shopify or other eCommerce platforms, this should already be built-in. But if you want to add-on a payment gateway, you can easily add on revenue-generating tools via PayPal, Stripe, or Gumroad.
Phase 4: Market Your Business Effectively
The last phase to marketing your business online is all about playing the long game—how you can market your business effectively.
If you want to succeed, you have to look beyond today's issues. You have to continuously lay the groundwork for future work. This is the Pincer Method in action.
Don't do anything that will take away from the future.
Search Engine Optimization (SEO): Create Sustainable Growth
SEO might be confusing to a lot of business owners, but you don't have to do anything special than what I've already shared earlier—focus on your customers.
A lot of beginners often get overwhelmed because there's a lot of aspects in search engine optimization. For example, there are the 200+ ranking factors that Google uses to rank content on their results pages.
These factors are often split into on-page and off-page ranking factors. Here's a quick overview:
On-page ranking factors are the ones that you can directly control. These are mostly the technical stuff like how your web host is configured, how big or small individual web pages are, the way the site is coded; and the basic markups like title tags, meta description, and schema markups.
Off-page ranking factors are factors you can't control and happen "outside" your own website. These mostly have to do with your content (which I'll expand more later) and how people perceive it. This is represented by other websites linking to yours and sharing your content on social media.
But you don't need to learn all these ranking factors.
In fact, you only need to focus on these things:
1. Make your website speed faster—aim to get a load time of 3 seconds or less on mobile
Website speed affects your rankings. Why? Because it does not provide a good experience for your users.
Let me ask you a question. If you visited a website that takes 45 seconds to fully load, what will you do?

You probably won't be waiting that long.
You probably will search for the next result.
You probably won't buy anything from this brand/website.
Speeding up your website means resolving a lot of issues in the category of on-page SEO.
Site speed is the primary one that gets resolved. But this also improves other user signals such as improving bounce rates and time on page.
You might have to work with a good developer to achieve this, but if you don't want to spend a lot of money, you can follow the guidelines I listed here.
You start with a quality web host. This is the foundation of your website, so this has to be of high quality.
Use a lightweight and SEO-optimized theme. Most themes on WordPress are sloppily built. They look nice but affect user experience, which is a tradeoff you should not do.
Make individual page sizes smaller by using minification, compression, and other optimization techniques.
Reduce distance data has to travel by using CDNs and caching technology.
2. Create high-quality content that others will enjoy reading and sharing on social media
High-quality content solves almost everything about off-page ranking factors.
The factor that's most often believed with the highest correlation for ranking high on search engines like Google is the number of links.
Think about this for a second: why do other websites link to other sites?
The answer lies in the quality of the content. If it's something that is unique and adds value to the user, people will link and share it on their own accounts and websites.
If you don't know how to get started, here are a few guides to help you:
Paid Ads: Get Quick, Short-Term Results
I know I said that you need to focus on the long-term, but that doesn't mean you cannot get results immediately. For most businesses, getting results quickly is very important.
Using paid ads (on both search engines and social media) can help bring immediate results that you need.
Unfortunately, it involves a lot of technical setup and you'll be using real money to participate.
It's what marketers often call "pay to play."
The easiest way to achieve results is to use a two-pronged attack like the Pincer Method.
The idea is to promote useful, educational, or entertaining content to cast a wider net.
Then, once they visit your website and/or engage with your content, that's the time to try to convert them into leads or customers.
You do that via remarketing ads.
This may not make sense right now, but think of this as window shopping.
Most people do this in-store, especially if they are unsure of what to buy or it's the first time they are in that particular store.
They do their research further, or come back to your store again to ask more questions.
After a few weeks, they come back without asking for any help but purchase the product directly.
Online, this works the same way. People don't immediately purchase the first time they visit a website.
On average, only 2% of your website visitors convert. Remarketing goes after that other 98%. In fact, customers who see retargeted ads are 70% more likely to convert on your website.

Blue Corona
I'll go over this in another guide.
For now, remember that trying to sell to a cold audience (people who haven't heard about you) is more difficult and costly. That is the reason why my recommendation is to promote educational or entertaining content first. Then, once people engage, that's when you can start selling to them.
Social Media Marketing: Build Loyal Fans
There's no doubt that social media is an essential tool in today's business environment.
But remember, it's not a place to sell.
It's a place to engage with potential clients and your customers. It's a platform to build loyal fans.
Focus on providing value
Answer questions
Ask questions
Share useful content
A lost of businesses use social media to shout about how awesome they are. They just add to the noise.
Be different.
Engage.
Talk with your customers.
Don't be selfish.
Email Marketing: Where the Magic Happens
According to Statista, in 2019, the number of global e-mail users amounted to 3.9 billion and is set to grow to 4.48 billion users in 2024.
Why is this important?
99% of consumers check their email every day.
I do. Multiple times a day.
And I bet you do too.
Oh, and did I mention that it is the channel that has the highest return on investment (ROI)?
One study cited a $42 return for every $1 spent on email marketing.
That's why it's important to incorporate email marketing into your business.
Conclusion
You've made it this far. Congratulations.
Did you notice a common theme in this guide?
Everything I shared above revolves around your target market and customers—a strong focus on their needs.
If you worry too much on the technical aspects, or get lost in the jargons of online marketing, you're going to have a hard time marketing your business online.
Remember to focus on adding value.
This is the only way to future proof your business.
What do you think? Are you confident to market your business online?
Or you need more specific guidance?
Let me know in the comments below. Or message me on Twitter.