Digital marketers often ask three questions when talking about website traffic.
How long does it take to increase traffic to my website?
What do I do to increase my website's traffic?
How long does it take to increase website traffic?
Oftentimes, these questions (and its variations) are asked by first-time website owners or marketers who are simply frustrated they aren't getting any results from their efforts.
I know the feeling. That's why I set out to ask other people's tips on how they grew their website's traffic. Note that these are regular people like you. These aren't your typical gurus and experts.
So, if they can do it, you can too.
Here's what they have to say.
Tip #1: Use Graphics and Schema Markups
This tip came from Vinny of SpinalCord.com.
I wish we had integrated more schema markup and infographics/media to more quickly share the information on our website with audiences.
There are a lot of content on the internet. In one minute, billions of content are created, uploaded, read, and watched. How do you stand out? By doing what other websites aren't doing.
One of these is using graphics to make your site more user-friendly.
The other one is adding schema markups to your pages.
While there doesn't seem to be any correlation between adding schema markups and higher rankings, it does help getting you more traffic.
For example, after adding the FAQschema on one of my pages, its organic traffic to it grew by 7%.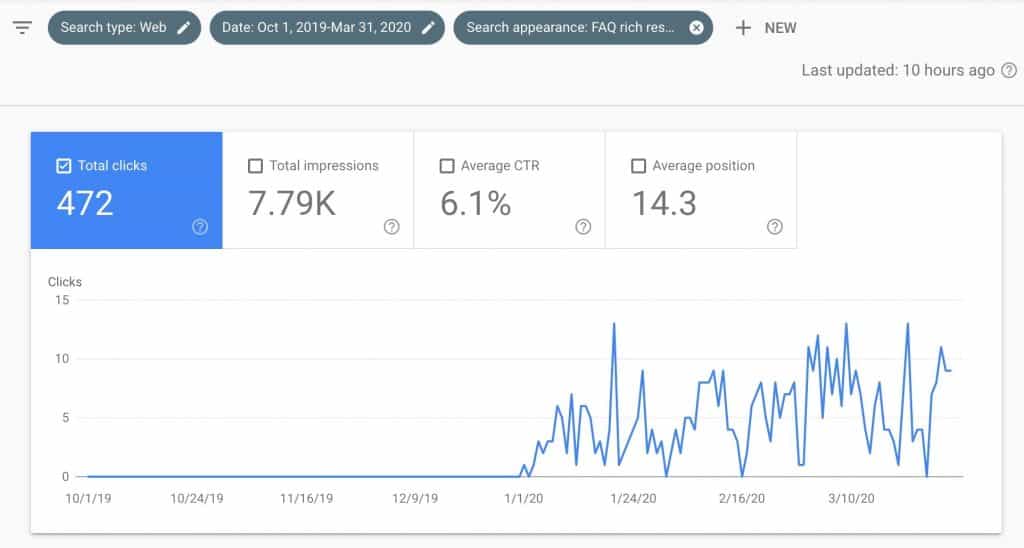 And the same goes for a lot of other sites.
Adding them to your site is as basic as installing a plugin and going through the configuration setup. You'll have the basic schema markup on your WordPress site.
But if you're looking to get more out of it, take a few minutes and add some relevant schema markups to your pages. Some of the most used ones are:
Each of these has special powers that, if Google deems your site is worthy, give you more data on SERPs.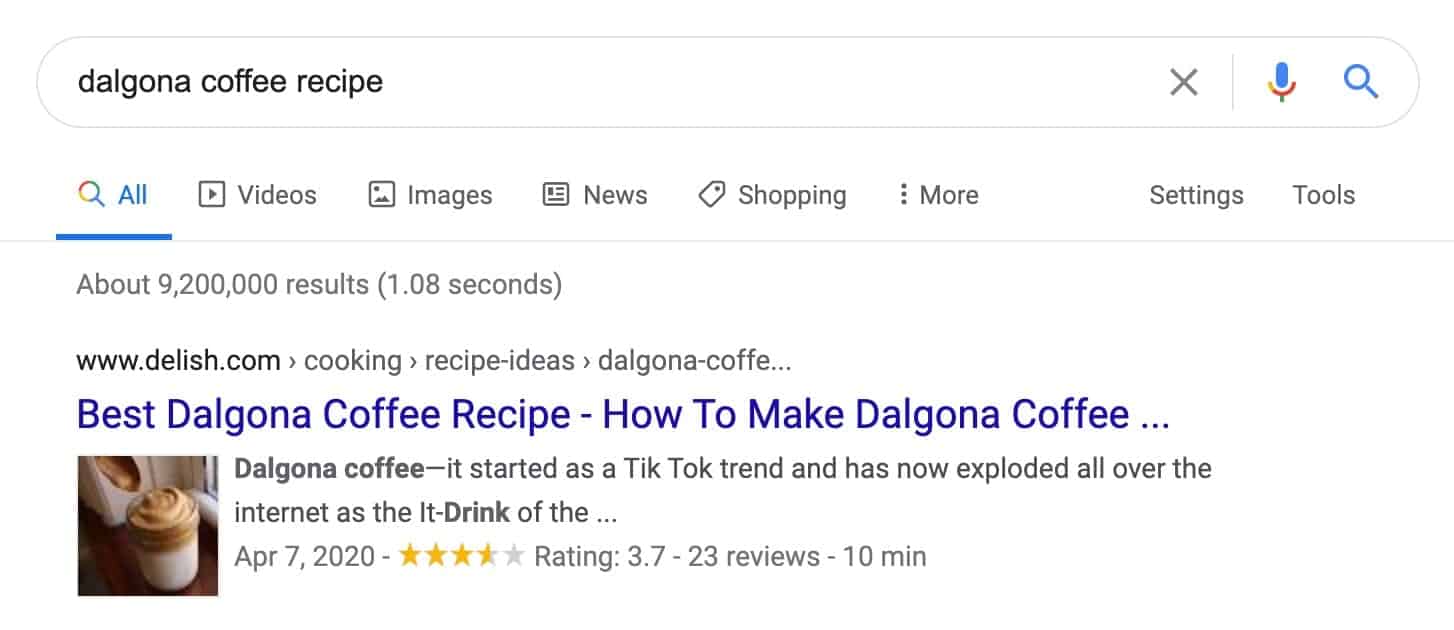 Website: spinalcord.com
Traffic (US):
• Total Visits: ~238k
• Organic Traffic: ~72.5k
Time to achieve: ~4 years
Tip #2: Invest in Blogging and Content Marketing Early
I believe you already know this but you cannot rank at the top of Google without content. That's where blogging and content marketing comes in.
At the moment, written content is still the #1 form of content out there.
When we started Clean Origin, we knew that search would be a big part of our mix. One of the best decisions that we made early was to invest in blogging and content marketing. Google values great content, and by choosing to act on this early, we were able to secure top ranking organic positions for the namesake of our product; lab-grown diamonds.

Brandon Cook
If you do some research with content marketing, you'll find yourself overwhelmed with so much information.
So, I'll simplify this for you.
Write articles or blog posts—this is the content creation part
Publish them on your website—makes sure the public can access your content
Share them on social media and email—gets your content in front of your audience
That's the gist of it.
Of course, there's the SEO aspect where you need to focus on certain keywords and links, but that's another thing by itself.
Website: www.cleanorigin.com
Traffic (US):
• Total Visits: ~111.8k
• Organic Traffic: ~98.6k
Time to achieve: ~2 years
Still having trouble getting traffic to your website? You might want to work on this first before applying any of the tips here.
Tip #3: Prioritize High Intent Content Pieces
This tactic is one of the secrets to a fast website traffic growth that a lot of marketers often miss out.
The reason is it's not a standard recommendation when doing keyword research. (Did you know there are over 12 keyword research methods you can use to get more traffic to your site? )
Most guides will tell you to focus on the high volume, low difficulty keywords. Only a handful will tell you to focus on buyer's intent.
Here's what Anastasiia has to say on how they grew from 0 monthly visitors to 700-800 daily organic visitors…
This is mostly the result of one particular tactic that we concentrated on during the first year. We were actively writing comparison pieces on our most popular competitors. These tools are quite popular and expensive, so people are constantly searching for better and more affordable alternatives to them. That's where our articles come in handy.

All in all, it's not something new. Many small businesses that have famous competitors in their niches have successfully used this tactic, and it never fails to bring high-intent leads
One of the things cited often that led to success of brands all over the globe is to be different. Do what your competitors and the industry isn't doing or can't do. You don't have to be necessarily better, but you have to be willing to do what others aren't.
Website: helpcrunch.com
Traffic (US):
• Total Visits: ~40.9k
• Organic Traffic: ~22.2k
Time to achieve: ~2 years
Tip #4: Focus on Your (Prospective) Customers
Because there are a lot of different aspects of digital marketing, a lot of people often forget the core principle: to focus on your customers.
For example, if you focus too much on SEO and all things technical, you might forget to address the needs of your customers. You might end up wasting all your resources on adding keywords and obtaining backlinks from irrelevant websites.
This might look good from a technical perspective, but it doesn't help you or your customers in any way.
Case in point…
I started the business from scratch which included all social media and my website. I started by making a blog and Facebook page, and writing about things that can help my customers, and in turn they may come to me for any help they need. Having that personal touch allows me to grow my business in an organic way, and means that I get repeat and loyal customers. Making consistent, quality content is what drives your business, and I couldn't recommend it enough

Michael
Ask yourself these questions…
Would hundreds of directory listings from a .in domain do you any good if you only do business in the US and UK?
Would writing about your products and how much effort you put into making it be something your customers enjoy reading?
Or would talking about your awards be interesting to people other than you?
Most probably not.
Put your audience first and you'll never go wrong.
The simplest way to drive more traffic to your website is to answer questions. Just like this post. I answer the question a lot of marketers keep on asking—how to increase website traffic and how long does it take?
Have you heard of this content creation tactic that's guaranteed to get you website traffic?
What about this link building strategy that has the same success rate of others, but only takes 15-30 minutes each day?
The biggest benefit you'll get when you put your customers first is you don't have to worry about any algorithm changes. Most SEOs dread these updates because they do shady things and abuse the system. If you focus on your customers, then you won't have to worry about this at all.
For example, one of them is the incorporation Core Web Vitals that will be incorporated into the 200+ ranking factors of Google early next year. If you have a customer-focused business, you wouldn't have to worry about this because you would have already spent time fixing website speed issues that affect their overall user experience.
Website: https://carpassionate.com/
Traffic (US):
• Total Visits: ~48.2k
• Organic Traffic: ~17.6k
Time to achieve: N/A
Tip #5: Build Mutually-Beneficial Relationships
Relationships on the internet seem to be something a lot of brands often forget. That's why it's very important that you go the extra mile to build relationships.
Yoann shared that they were able to grow 3x from this strategy. Instead of constantly asking for more or a mindset of taking, switch gears to give, give, give.
To grow by three in the course of one year, from a 100 000 unique visitors per month in January last year, to more than 300 000 unique visitors per month this year in January, the technique I used the most to achieve this objective, to triple, has been to create new connections with other partners, and to nurture them in order to turn them into a positive outcome for them and for me as well.
When was the last time you did something without expected something on return?
Website: ybierling.com
Traffic (US):
• Total Visits: ~55.3k
• Organic Traffic: ~46.7k
Time to achieve: ~1 year
Tip #6: Expand Your Reach via Guest Posting
Growing your website's traffic isn't easy. There will be a lot of challenges you have to overcome. For Chanty, this was example the case. According to Jane, it took them 3 years from launching their website and having zero visits to over 50k visits per month.
Naturally, keyword research played a very important role, but, at the same time, they utilized a strategy called staircase guest blogging to build their links.
One of the most useful strategies to achieve these results has been guest blogging. We used something called the staircase guest blogging strategy, where we moved on from smaller blogs to larger publications. It took us a little over a year to get published on websites such as Hubspot, Entrepreneur, Inc.com, SearchEngineJournal and many others.

Jane
If you think about it, it's a great strategy. If you're unknown, the brands at the top won't care about you. That's why you have to build your way up.
As you get more links and brand recognition, you'll soon start to realize that what used to be impossible, starts to seem reachable. There's nothing wrong with aiming high, but you've got to have a plan that you can execute to achieve those ambitious goals. The staircase guest blogging is one way to do so.
Website: www.chanty.com
Traffic (US):
• Total Visits: ~157.9k
• Organic Traffic: ~13.3k
Time to achieve: ~3 years
Tip #7: You Can't Go Wrong with Best Practices
Anyone who wants to grow their website traffic will need to follow certain best practices. Execute those perfectly and you'll get rewarded.
That's exactly what The World Was Here First did and how they grew their site from 0 to 200k page views per month in 3 years.
The biggest reason for our success is a strong focus on SEO where we spend a lot of time researching keywords that have high volume and aren't highly competitive, building backlinks to our site and ensuring our articles are extremely thorough and well-researched.

We also have a strong focus on page speed to make sure that our website is easily laid out and users that click through don't bounce from our page.

Michael
What Michael shared perfectly aligns with what I have been writing about on this site since I started. It builds on three core fundamentals:
Fast website — this one is all about the user experience. And with Google's plans for incorporating the Core Web Vitals into their Page Experience Ranking Signal, this is now more important than ever. This is something a lot of marketers often take for granted that's why their website rankings aren't as high as they've hoped.
Quality content —this is the biggest differentiator you can have. Most content out there are fluff pieces and aren't adding value. Ever since I started this site, I'm in a quest to find actionable marketing tactics to share with you, but out of the sites and posts I've read, there's probably only 5% of them that are helpful.
Relevant backlinks—getting links from irrelevant sites is easy, can inflate your domain scores from SEO tools, and boost your ego. But those won't help you rank higher. In fact, those hundreds of directory pages might get you penalized. Focus on getting links only from websites related to your industry/niche.
Focus on the fundamentals. Don't try to do everything at once; otherwise, you'll only see mediocre results.
Website: www.theworldwasherefirst.com
Traffic (US):
• Total Visits: ~107.1k
• Organic Traffic: ~27.3k
Time to achieve: ~3 years
Tip #8: Systematize Early to Scale
"We took our site from zero to 2.5k+ hits a day in the space of around 17 months."
That's the exact quote from Mark, Co-founder of Authority Hacker, an industry-leading online marketing education company.
I'm familiar with them since I'm also in the marketing space. So, listen up as this tip is gold.
We took what we knew and scaled it. This meant producing content, building links and creating a site that was pumping out high quality content at a breakneck pace. While this seems like a no brainer, the key was in the execution. If you want to scale to this level and maintain the crucial quality element, it means having a system and process in place for everything.

We highly recommend systematizing everything from content creation to publishing. While this may seem somewhat clinical to some, as soon as you can get your website running autonomously, the sooner you can start outsourcing thing consistently and sitting back while your site runs itself practically. Make sure everything has a process and that process is documented in an SOP!
When was the last time you sat down and documented what you're doing? There's no need for fancy software or tools here. A simple Word or Google Doc will work just fine.
You can also use mind map software then export them.
Or if it's a how-to process, record your own screen and talk while you do it. Loom works perfectly for this. You install the extension on your browser, then everything is stored in the cloud. You can embed the link inside a document to supplement the process. Or, later on, download the video yourself.
The important part is to document what you're doing, figure out what's working, then replicate that. This will help you scale your content production faster, therefore, get more traffic and rank higher faster.
Website: authorityhacker.com
Traffic (US):
• Total Visits: ~211.2k
• Organic Traffic: ~13.2k
Time to achieve: ~1.5 years
Tip #9: Focus on the Right Keywords
This goes without saying, but keyword research plays a very important part if you want to get more traffic to your website.
Here's what Malte has to say about how they grew their website's traffic.
We had about 30,000 monthly visits to our website this time last year and we managed to get about 55,000 monthly last month. We managed to almost double our traffic by using one simple trick – focusing on the right keywords.
But don't get stuck on the high volume, low difficulty research method. There are various methods you can apply for keyword research. You'll have to decide which ones to pursue, but it really depends on your strategy and goals.
Tip #10: Update Old Content
If you want to grow your traffic, you don't just focus on creating content.
Take the time to edit and improve your older articles.
At the point when we decided to work on our traffic, we did two things: rewriting old content and optimizing it for certain keywords and writing new content and focusing on relevant keywords.

In most cases, writing new content took less time than rewriting old content. The reason why this approach worked so well is that Google saw the added content as an update.
Take the time to perform a content audit. Look at your old post and see if any content is outdated.
My favorite example is a Google Adwords guide. If you still have remnants of this, please update your content. It's already at least two years since they became Google Ads.
You can use Google Search Console to audit your old posts. The easiest is look into pages that have dropped in traffic. Head on over to the domain and make sure you use the compare filter in the date range.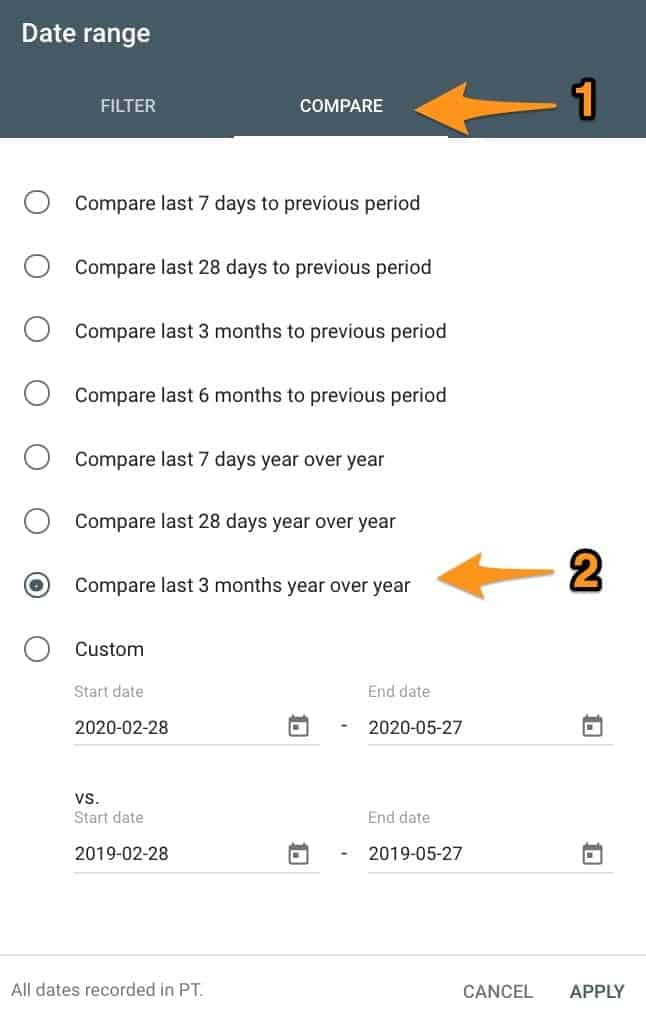 You can choose from a number of preset date comparisons, but it's up to you. Play around with the time period. You can compare the last 28 days with the previous year, or the past 3 months with the previous 3 months.
After choosing your comparison dates, deselect all other metrics except the clicks.
Scroll down and sort the difference column.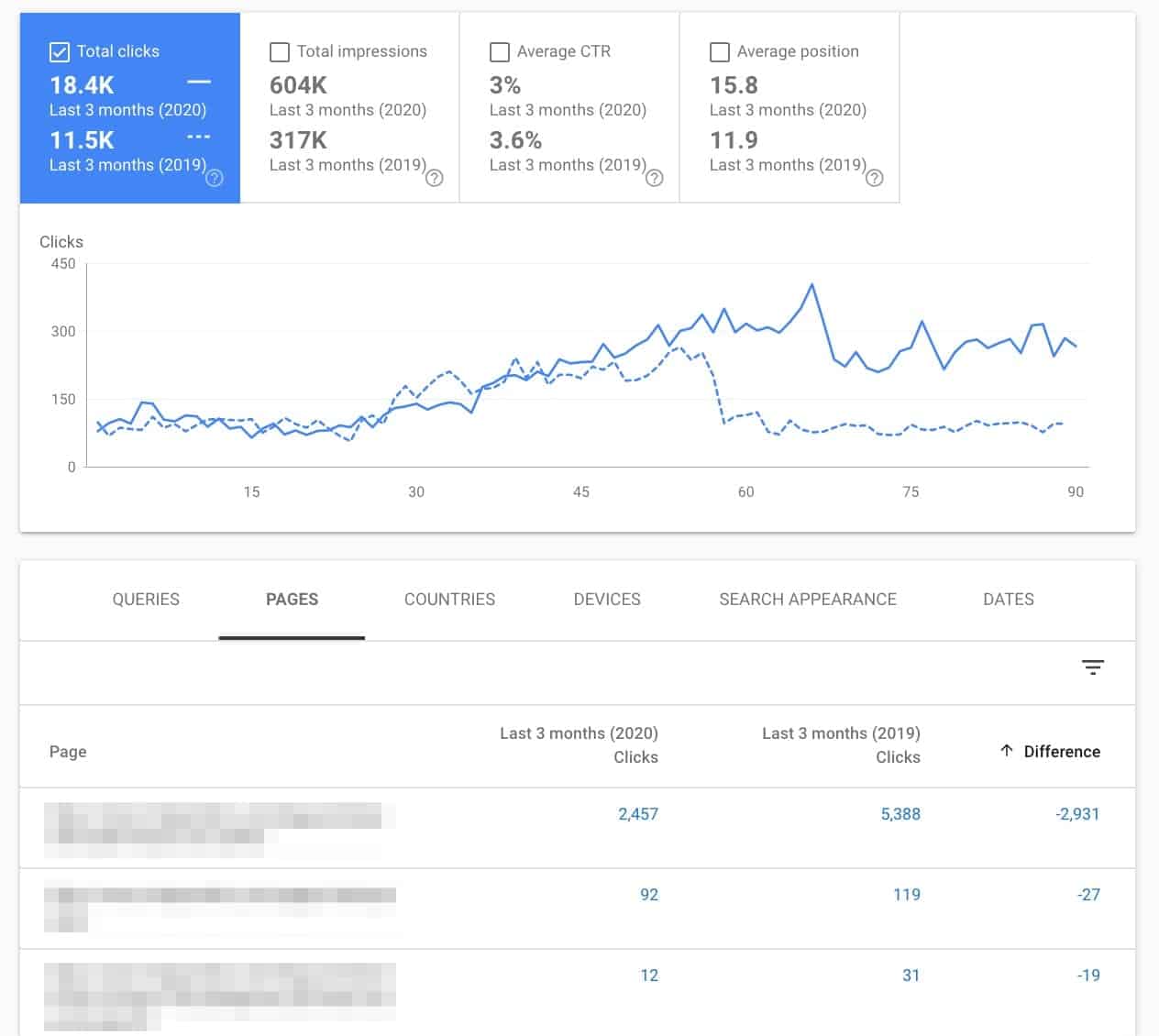 In the example above, you'd notice that one page (an article) has dropped significantly. That's over 50% of its organic traffic.
Despite the traffic increase in the entire website, this particular page dropped significantly. This page should be prioritized. The others are lower priority items as the results aren't that big.
At the minimum, I recommend doing this at least a year. Once a quarter is even better. But only focus on those with at least 6 months worth of data. Of course, if your industry moves faster, then you have to make this audit more frequent.
Website: airfocus.com
Traffic (US):
• Total Visits: ~44.4
• Organic Traffic: ~13.3k
Time to achieve: ~1.5 years
Conclusion
Everyone wants to increase their website traffic. But it takes a lot of hard work to do so. And not everyone is willing to put in the effort.
Based on these answers, it takes an average of 2+ years to get ~50k monthly website traffic. If you're trying to grow your traffic,
But if you do, all you need is to follow the right formula:
Focus on your customers' needs and problems
Proper keyword research is important
Continue writing quality content that solves your customers' challenges
Expand your reach by partnerships and building relationships
Rinse and repeat
What's your number one takeaway from this post? Is there something that you want to apply to your own site?
Or maybe you're already doing some of these tips?
I'd love to know.