Google Search Console is a free tool by Google that grants you special powers to see how Google sees your website. It tells you how your website performs from Google's eyes.
Here are some of the benefits you can get when you use Google Search Console:
Know exactly which pages are getting the most views and clicks
Find the exact keywords each page on your site is ranking for, including the position they are on Google's search engine pages
See which pages are indexed properly and which can't be read
Identify errors on your pages included core web vitals data, mobile responsiveness, and even schema data
And there's so much more.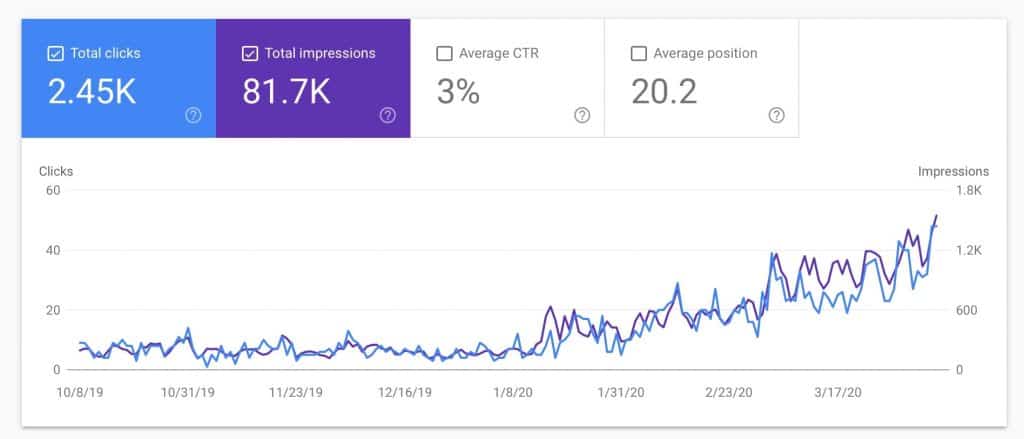 That's why if you have a website, you cannot afford NOT to use Google Search Console.
The only problem is that you need to create one (just like creating a Google Analytics account) first before it starts collecting these data. It's easy. Just sign up here and create an account. If you have a Gmail account or Google Analytics created, use that same email so it's easier.
After that, you'll be greeted with a screen like this.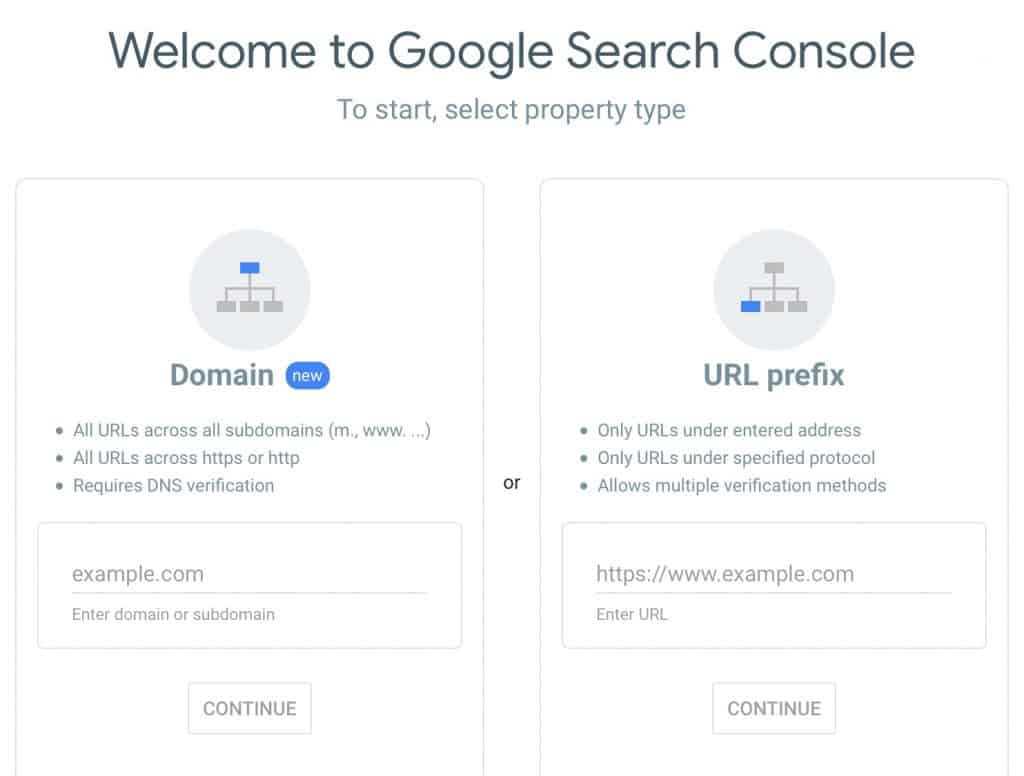 You'll be asked to add a domain or a URL prefix. In most cases, you'd want to use the domain property. But sometimes, you still have to add a URL prefix. The process is similar, but the two biggest difference is the access or data you can see and the verification details. I'll go over this below.
Adding a Domain Property to Google Search Console
Step 1: Add Your Domain URL Under the Domain Property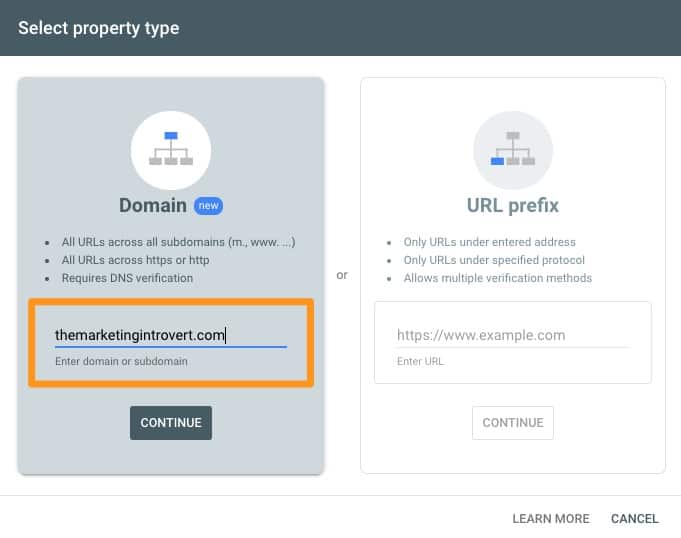 Add your domain or URL in the domain property section (left-hand).
Click continue.
Step 2: Copy the TXT Record to Start Verification of Ownership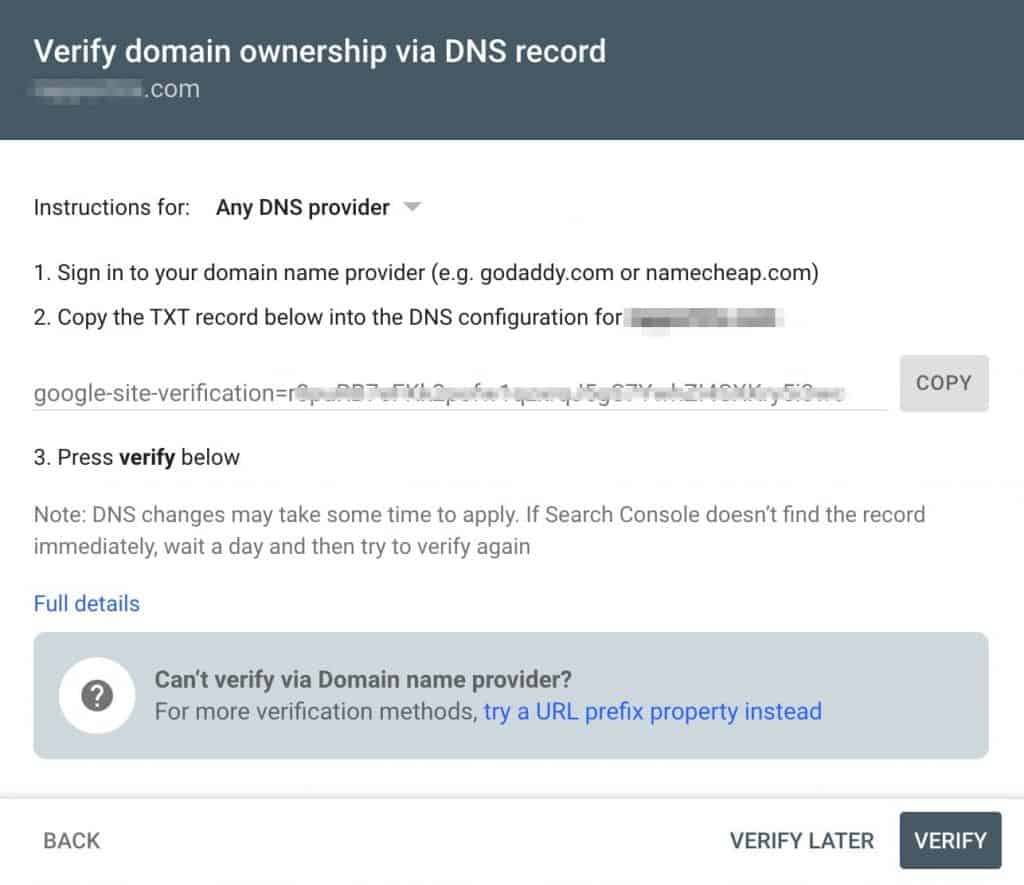 Next, copy the TXT record that you will add to your DNS records. This is a necessary step for privacy purposes. If you don't own a website, you shouldn't be able to set up a Google Search Console account for it and view its data.
Step 3: Create a New TXT Record and Paste the Value
This next step depends on your domain name provider. Usually, this is where you bought your domain name. For example, for this website it's GoDaddy.
Yours could be Namecheap or other Google Domains. Or you may have bought your domain together with your web hosting so that's where you will go next.
In my case, I am using Cloudflare so that's where I'll add the TXT record.
Regardless, the process is the same.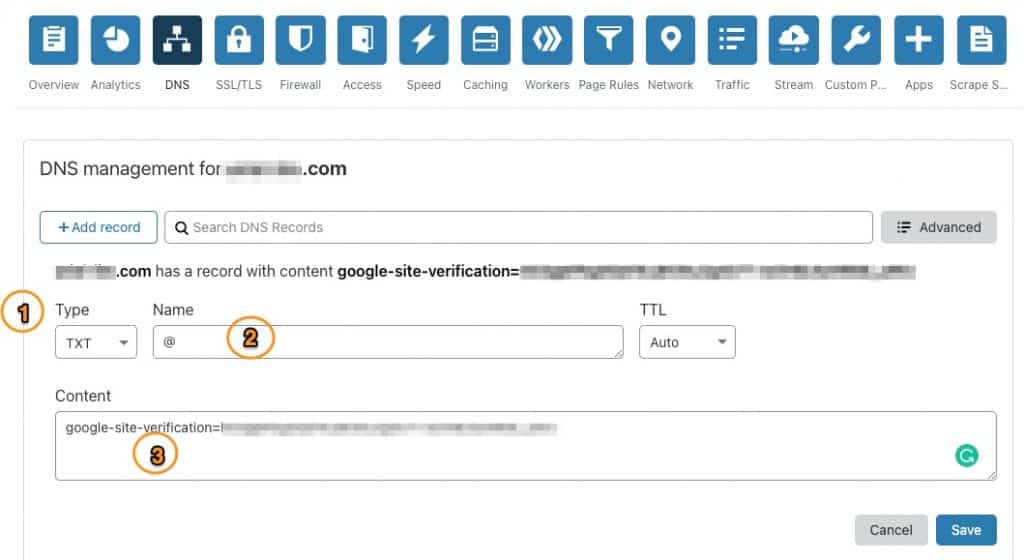 Add a new TXT record
Use @ in the name—this is shorthand for your own domain
Paste the TXT values you copied from Google Search Console
Hit save then head back to Google Search Console.
Step 4: Verify Ownership in Google Search Console
Head back to Google Search Console and click on Verify.
If you completed the previous steps properly, you should be able to see the main screen. It will be blank because you just created an account. If it doesn't load to your domain property, you can click on the dropdown here and find your website.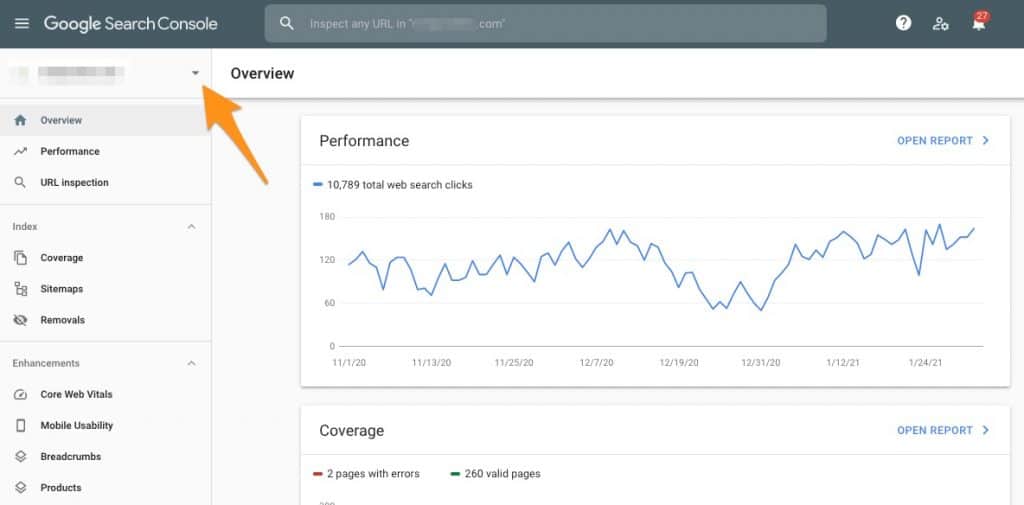 This is the area where you'll find your domain properties if you own and/or manager several websites.
If you encountered an error, you will see a screen like this: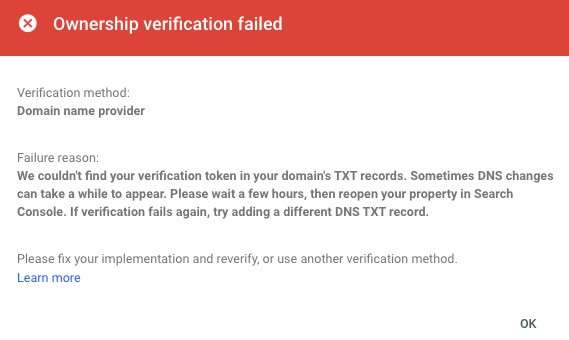 Check whether you added the TXT records properly or not. In most cases, if you encountered this, you just have to wait a while before trying verification again.
After verification, make sure you follow these next steps.
Adding a URL Prefix to Google Search Console
In some cases, adding a URL prefix is an option. This is true if you have a very large site with multiple subdomains. Or, in some cases, if you're having trouble verifying your website, this is the route to go. The process is fairly similar.
Step 1: Add Your Domain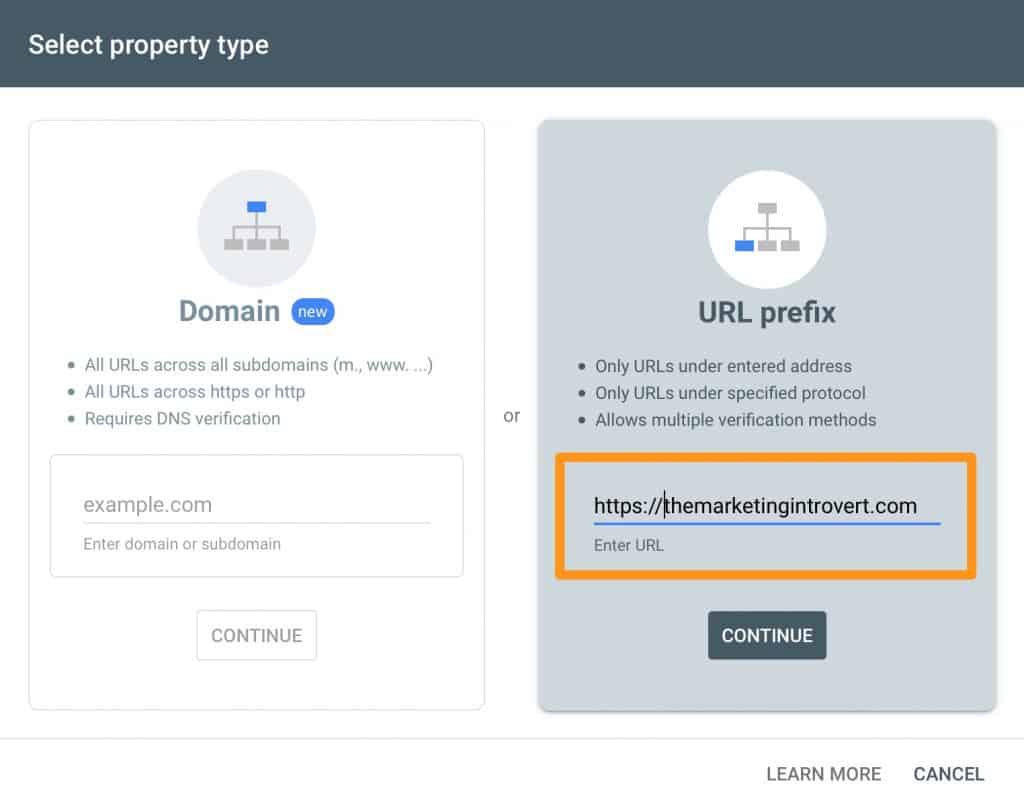 In this step, you have to be wary of which URL you are adding. In the domain property option, you simply add your entire domain and it tracks data for everything in it. But under the URL prefix, all these URLs are different:
https://themarketingintrovert.com/
http://themarketingintrovert.com/
subdomain.themarketingintrovert.com
subdomain2.themarketingintrovert.com
Pick one (or all) then add them here.
Step 2: Choose a Verification Method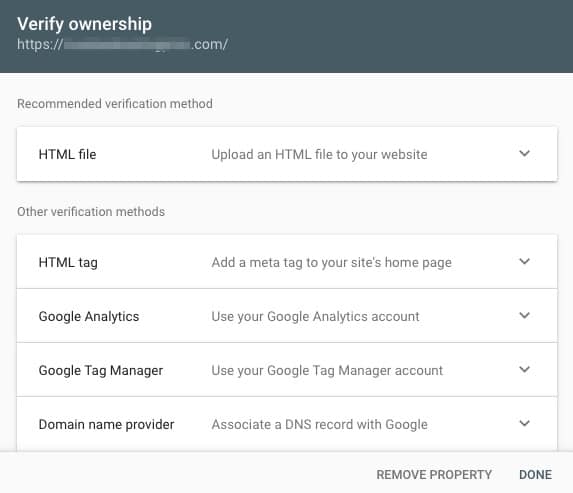 The benefit of using the URL prefix is that there are a lot of verification methods.
You can upload an HTML file—if you have access to cpanel or an FTP account, choose this step.
via Google Analytics and Google Tag Manager—if your site is already using these tools, choose this option. Note that you must have an edit access in Google Analytics and publish access in Google Tag Manager.
Adding a DNS record—same as above
Whatever you choose, just follow the instructions then click verify.
After verification, you'll see the main screen of Google Search Console.
Next Steps
Okay, that you have an account and verified your ownership, what do you do next?
First, help Google help you. Follow the steps here to make sure that Google finds your website.
Next, check back after a few days to see how your site is performing. For example, you can use this strategy to grow your website traffic using Google Search Console. No need for fancy (and expensive) SEO tool.
But in order to do that, you need data. That's why it's recommended to always create your Google Search Console account as soon as possible.
Lastly, connect your Google Analytics with Google Search Console. This allows you to see all your data in one place.
Frequently Asked Questions
What's the difference between domain property and URL prefix
Domain property contains all pages, subdomains, and versions of your website while using URL prefix is for a specific site. For example, the HTTP and HTTPS versions of your site are counted as two separate URL prefixes. Each individual subdomain is also a separate URL prefix. But under the domain property, everything is grouped together.
How do I verify my ownership?
If you are verifying your Google Search Console ownership of a domain property, the only way to do that is by adding a TXT record in the DNS records. But if you choose the URL prefix, you have additional ways to verify like uploading an HTML file to the root folder or via Google Analytics and Google Tag Manager.
Domain propery vs URL prefix
The most efficient way is using the domain property. This way, you only look at data in one place and only go through the verification process once. Remember, you can always segment your data when you analyze. But if you use URL prefixes, you will only collect and see data for that specific URL. So if you have other pages, i.e. multiple subdomains, you will not be able to see how everything fits together.